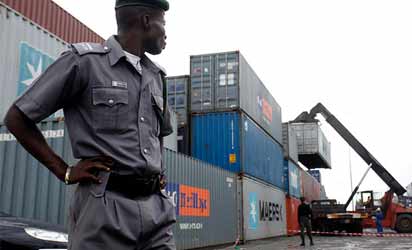 The Nigeria Customs Service (NCS) has announced plans to commence electronic auction of overtime cargoes at the port.
Already, Customs said it had started evacuating all overtime cargo to the Ikorodu Lighter Terminal as part of efforts to decongest the port.
Recall that the NCS had in 2017 carried out electronic auction of seized goods but suspended the exercise due to observed irregularities.
Customs Public Relations Officer, Joseph Attah told SHIPS & PORTS that the committee on overtime cargo recently visited the Lagos port to ascertain the conditions and volume of the cargo due for auctioning.
He said, "E-auction started with seized items but now, we are gradually going into the auction of overtime cargo. Recently, the committee on overtime cargo came to Lagos and checked everywhere. So the e-auction will gradually enter into overtime cargo. It is an ongoing auction, so it will definitely get to overtime cargo."
On the alleged takeover of the Customs facility at Ikorodu Lighter Terminal by the Nigerian Port Authority (NPA) over the failure of Customs to renew the 25-year lease agreement it had with NPA, Attah said, "Customs and NPA are two government agencies. Since Customs is there, there has been a lease arrangement with options of renewal. There are issues that may arise but that can easily be handled by strategic engagement.
"The issue concerning Ikorodu terminal is an issue that can easily be handled through engagement between both leaderships. I cannot pre-empt the outcome of the engagement.
"There is going to be an engagement on it. These are two government agencies with common interest. The common interest is the interest of the Federal Government. We are looking at the areas of safeguarding revenue, security and special port operation. So it should not be difficult for both Customs and NPA to easily agree on the way forward," Attah said.