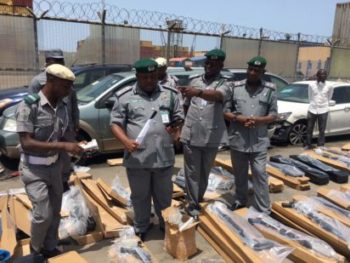 The Tin Can Island Port Command of the Nigeria Customs has intercepted a 20 foot container laden with 1,100 pump action riffles imported into the country through Turkey.
This is coming barely four months after operatives of the command intercepted 440 pump action riffles and another 661 pieces of arms and ammunition imported through the Apapa port in January.
Disclosing this to newsmen in Lagos on Monday, Comptroller General of Customs, Hameed Ali said the Bill of Lading falsely indicates the content of the container to be wash hand basins and water closets but upon examination, it was discovered to contain arms.
The arms include 600 pieces of Jojef Magnum black pump action; 300 pieces of Jojef Magnum silver pump action and 209 pieces of Jojef Magnum Plastic single barrels hunting gun pump action rifles.
He said, "On the 6th of September, 2017 operatives of the Nigeria Customs Service intelligence unit on a routine monitoring of activities across the terminals discovered a 1x20ft container with number, GESU2555208 which was not previously listed for examination, positioned with other containers for the day's examination.
"They also observed that the seal of this unlisted container had already been cut and padlocked. The container became suspect and had to be immediately transferred to the Enforcement unit,"
The Customs boss said an officer alleged to have authorised the cutting of the seal and the terminal clerk have been arrested and are undergoing investigation.
Ali decried the importation of arms into the country at a time when the nation is undergoing security challenges even as he pledged to fish out all those connected to the import.
He charged shipping agencies and terminal operators to support the Service to nip in the bud attempts to smuggle such dangerous items into the country.
"Importation of 1100 Rifles at a time when the nation is undergoing some security challenges is a clear indication that there are indeed some elements who do not believe in the unity, peace and well being of Nigeria.
"The audacity of these criminals to think that they can succeed in smuggling such quantity of deadly weapons into the country, calls for all round responsibilities," he said.