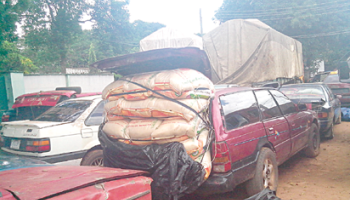 Three weeks to the Christmas celebrations, the Nigeria Customs Service (NCS) has warned members of the public to be wary of buying smuggled rice as most of them are not safe for consumption.
Public Relations Officer, Federal Operations Unit, Zone 'A' Jerry Attah, who gave the warning while speaking with SHIPS & PORTS DAILY in Lagos, said smugglers always take advantage of festive periods to perpetuate illegal activities including smuggling of fake rice, most of which are purchased by unsuspecting consumers.
He said, "Every festive period like Christmas, Sallah or Easter comes with celebration and during celebration; some unpatriotic element would always hide under the guise to perpetuate illegal trade. It is our advice that Nigerians should watch out for whatever they buy and consume to be sure that it is safe.
"We are appealing to the general public to also be patriotic before they buy anything for the season. They should watch out and look for the expiry date very well to ensure that what you are taking is safe even though we have not had any issue or complaint of plastic rice this year."
Attah said the unit has intercepted over 35,000 bags of smuggled rice (equivalent of 29 trailer loads) within the last three months.
The Customs anti-smuggling unit, he said, is putting in place necessary machineries to ensure smuggled rice don't find their way into the Nigerian market. 
"Members of the public can also help provide us with necessary intelligence. So far we have seized 35,000 bags of smuggled rice. The Customs Police are doing their best. If all other security agencies including the media provide us with necessary information that will help us to do our job very well, we will achieve better result; perhaps we will be able to make more seizure and curtail illegal activities to its barest minimum.
"It is our prayer that cases of smuggled plastic rice don't come up because the health of Nigerians is our outmost priority. However, whatever the case, we have rolled out modalities to check the excesses of these activities. We have our surveillance; the Customs CIU is also working round the clock to make sure that no smuggled rice find their way into the country," he said.
In December 2016, the Customs Federal Operations Unit intercepted no fewer than 100 bags of plastic rice branded 'Beat Tomato Rice' with no date of manufacture.