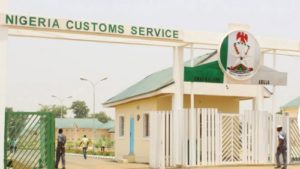 The Nigerian Customs Service, Zone 'C', Federal Operations Unit (FOU) has said the zone recorded a fall in revenue of N360 million in 2017.
The Zonal Comptroller of the zone, Ahmed Azarema, made this known in an interview with newsmen in Benin.
Azarema said that the command generated N346.2 million in 2017 as against the N706.2 million in 2016.
He said the fall in revenue in 2017 was due to the low 155 Demand on Notice (DN) on vehicles and general goods from the 316 recorded in 2016.
Azarema noted that smugglers had devised new tactics of bringing in banned products into the zone by "weaving banned and unbanned products to beat the customs".
He said that the weaving was so perfectly done in such a way that only an experienced officer could detect and separate the products.
The customs boss said that unregistered vehicles were also deliberately lodged in the midst of registered vehicles to deceive the customs.
Azarema said, "For every trick adopted by smugglers, the customs is far ahead because we review our strategies to meet the challenges posed by smugglers.
"These strategies cannot be disclosed as it will amount to exposing our joker to them."
Zone C comprises Edo, Delta, Bayelsa, Rivers, Cross River, Akwa-Ibom, Imo, Ebonyi, Anambra, Abia and Enugu states.