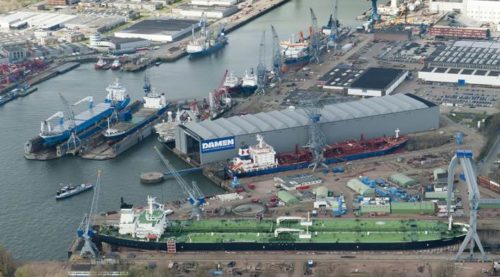 Damen Shipyards Group has recorded a net loss of USD19.1 million in 2018.
This is the first time that the shipbuilder has posted losses in 15 years.
The full-year result was affected by a sustained period of difficulty in a number of maritime sectors and investments Damen has made.
Despite the difficult market conditions, the shipyards group has continued to book a large number of projects – worth in the region of EUR 1.9 billion in 2018.
Commenting on the result, the CEO of Damen, Réne Berkvens, said, "Turnover is generally healthy. The difficulty is that, despite high levels of activity, profit is under pressure from a combination of factors including vessel oversupply in some markets, fierce competition and increasing labour costs in certain regions."
Specifically, despite rising oil prices, the offshore hydrocarbon sectors continue to present tough trading conditions. The harbour towage sector, a key market for Damen, is also underperforming as competition in the marketplace exerts downward pressure on prices and tug operators seek to consolidate their operations.
Additionally, while project activity has increased recently for the group's repair and conversion division, profit generated remains low as the group is absorbing operating losses at its acquired companies Verolme, Curaçao and Mangalia Romania.
A further factor is the current lower than usual levels of activity at Damen Schelde Naval Shipbuilding.
"Despite significant investment, over a sustained period, aimed at participation in various projects, for example the Dutch submarine and German MKS 180 programmes, awards have not yet been forthcoming. Defence & security projects are a critical factor, not only for the success of Damen, but also for the navy and for the maintenance of a domestic defence industry within the Netherlands," Berkvens added.
Damen Shipyards Group currently operates 36 shipbuilding and repair yards worldwide.