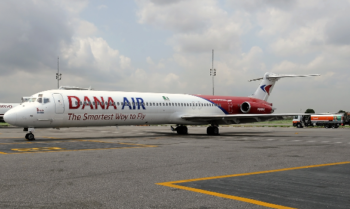 Hundreds of Dana Air passengers were stranded on Friday at the domestic terminal two of Murtala Muhammed International Airport (MMIA) when its Lagos – Port-Harcourt flight had an air return following a bird strike on one of the engines.
It was learnt that the flight which took off from MMA2 had barely gone far when the pilot noticed a snag in the engine and decided to return to Lagos as a precautionary measure.
It was later discovered that the aircraft – a Boeing MD 83 – suffered a bird strike on one of its engines making the aircraft to be temporarily grounded.
As of the time of filing this report, the passengers were still stranded at the airport with the airline assuring that the aircraft would depart as soon as the fault on the aircraft is fixed.
Spokesman of the airline, Kingsley Ezenwa said its engineers were checking on the aircraft to ascertain whether to completely change the engine or some blades in the engine.
He said, "On 21st of April, one of our aircraft with registration number 5N-SRI operating our 11am flight from Lagos to Port Harcourt, had an air return due Bird strike during take-off from Lagos, and our Captain took a professional decision and returned to the Lagos Airport.
"A Bird strike is a collision between a bird and an aircraft which is airborne and as per standard safety procedure, which is the hallmark of our operation, our pilot returned to base."
"The aircraft is currently being evaluated by our engineers to determine the effect of the bird strike on the affected engine", he said.
The incident affected other flights for the day which had to be rescheduled owing to the grounding of the aircraft.