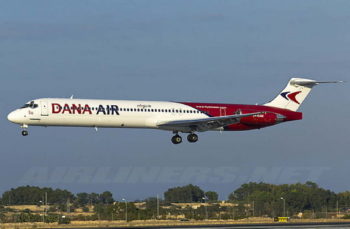 Dana Air, said it had recruited and trained not less than 45 Nigerian Pilots in Johannesburg, South Africa and Madrid, Spain so far.
Media Communications Manager of the airline, Kingsley Ezenwa, in a statement issued in Lagos on Tuesday, explained that this was part of the airline's efforts towards contributing to the growth and development of the Nigerian aviation industry.
He said the airline would continue to encourage professionalism in the industry and support its Nigerian Pilots to ensure consistent growth and development in the industry.
The airline official added that the company has also introduced a Special Services Unit which consists of well-trained males and females.
"They are to attend to passengers with special needs, urgent complaints, update passengers on current promos and benefits of Dana Miles at airports in Lagos, Abuja, Port Harcourt, Uyo and Owerri,'' he said.
 The airline's Accountable Manager, Obi Mbanuzuo said Dana Air was committed to the growth and development of the Nigerian aviation industry through the training and re-training of its personnel.
"As at 2015, more than 500 Nigerian pilots were unemployed but with our recruitment and frequent training both locally and abroad since 2015, we have been able to reduce the number, by engaging these pilots and paying for their training in South Africa and Spain," he said.