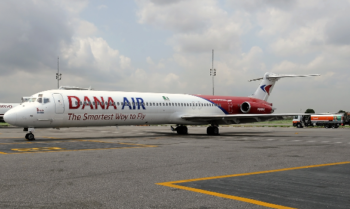 Dana Airline says it will resume flights to the Nnamdi Azikiwe International Airport, Abuja from Wednesday.  Dana's Accountable Manager, Obi Mbanuzuo, made the announcement in a statement on Tuesday in Lagos.
Mbanuzuo commended the Minister of State for Aviation, Sen. Hadi Sirika for spearheading the rehabilitation of the Abuja airport runway which necessitated its closure for six weeks.
The airport was re-opened on Tuesday.
"We will commence flights to Abuja on Wednesday and will operate five daily flights from Lagos to Abuja,'' he said.
Mbanuzuo urged prospective passengers of Dana air to take advantage of its low fares and numerous customer-centric services.
He listed some of the services to include self service kiosk at MMA2, pocket –friendly cab services in Abuja for Dana Miles Guests and ongoing discounts for Youth Corp members.
Meanwhile, the Kaduna Integrity Group has commended Dana Airline for its exceptional service delivery and selfless contribution to the nation, as the airline recommences flights to Abuja.
According to a letter signed by its Chairman, Rt Comrade Abdullai Ladan, the group commended Dana Air for its contributions to tourism and security during the renovation of the Abuja and Kaduna airports.
"We thank you for your contributions to toward the success of the exercise and we are exceedingly grateful,'' the letter read in part.