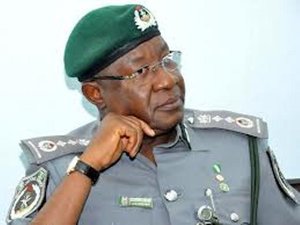 By Bolaji Akinola
While one was struggling to digest the shocking revelation that former state oil chief executive Andrew Yakubu callously and criminally hid $10 million (more than N3 billion) in a mud house in the slum of Kaduna, news of the recovery of 17 exotic cars and assorted vehicles from a premises belonging to former Customs Comptroller-General, Dikko Inde Abdullahi, created a backflow of stomach acid and juices into my oesophagus. The resultant metallic taste is sickening.
What is wrong with Nigerian leaders? How could a man, in his right senses and frame of mind, seize other people's vehicles, in the guise of fighting smuggling and lock up the merchandise in a remote location, gathering dust? The pervasive poverty mentality compels people to steal and store up what they will never need or use in their entire life.
Dikko, evidently one of the most corrupt public officers of former President Jonathan's government, bestrode the Nigeria Customs Service like an all-conquering warlord. He talked carelessly and was nothing short of a bully. A brutish officer he was. He not only stole money – part of which has been recovered from him by EFCC – he also destroyed the psyche of Customs operatives.
Dikko was responsible for chasing away service providers at the port for self-aggrandizing purposes; presided over the systematic destruction of the nation's import regime by discrediting the well established destination inspection scheme and the risk assessment report (RAR) for his hurriedly-packaged, highly flawed and ill-conceived pre-arrival assessment report (PAAR). At the end, RAR was scrapped, DI was scrapped and service providers were chased out. Yet Dikko's PAAR only succeeded in setting the port and the country backwards.
Dikko it was who once boasted in public that "as far as Jonathan remains President, I will remain Customs Comptroller-General". What arrant insolence!
It is challenging finding the apposite theory to explain the behaviours and psyches of the Andrew Yakubus, Dikko Abdullahis, Alex Bades and Ibrahim Dasukis of this world. The system that made it possible for these former public officers to amass stupendous wealth at the expense of their fellow countrymen is certainly due for overhaul.
The punishment for corruption for the rich in Nigeria is not deterrent enough. I think in addition to losing ill-gotten wealth, death by hanging will be appropriate for public officials who loot the treasury. Special courts should also be created to expedite the trials of public treasury looters. Trials should be conducted within a week with little room created for manouvres and manipulation of the system by the criminal elements.
Examples abound of jurisdictions where public officers caught stealing would rather commit suicide than face the agony and public humiliation that follows. One of the most recent examples was the case of two former executives from Vinashin Ocean Shipping (Vinashinlines) who were sentenced to death for corruption, while a third was imprisoned for life. The trial lasted for only four days. The three senior executives from the former subsidiary of state-owned Vietnam Shipbuilding Industry Group were found guilty of having embezzled the equivalent of $11.5 million – peanuts compared to the mind-boggling sums stolen by some Nigerian public officials. A former chief accountant of the state shipping line who stole a mere a $110,000 was jailed for life.
This is the way to go in the fight against corruption. The penalty must be stiff and the tolerance nil. This approach is working in countries like Singapore, China, Japan, South Korea and others.
According to a recent study by Tian Guoliang, a professor with the Party School of the Central Committee of the Communist Party of China, 103 officials at the level of vice-minister or above have been tried in court in the Asian country since the 1980s. Around 80 percent were found guilty of bribery and embezzlement. Of those, six were sentenced to death, 27 were given suspended death sentences, 17 were sentenced to life imprisonment, and a further 44 were given sentences of varying lengths. Chinese criminal law states that anyone who embezzles more than 100,000 yuan ($16,340), which is the equivalent of N5 million, can be sentenced to death.
Corruption thrives in Nigeria because treasury looters get away very easily with their crimes as they merely get a slap on the wrist. Majority are punished mildly after they confess their crimes in the name of plea bargain or hand back part of the illicit money to the investigators.
One great legacy the present National Assembly and government can bestow on this nation, therefore, is to amend the laws as they concern corruption in high places to reflect the severest of punishment and speedy trial of treasury looters. This will send the right signal that Nigeria is serious in its anti-graft war.
Copyright Ships & Ports Ltd. Permission to use quotations from this article is granted subject to appropriate credit given to www.shipsandports.com.ng as the source.