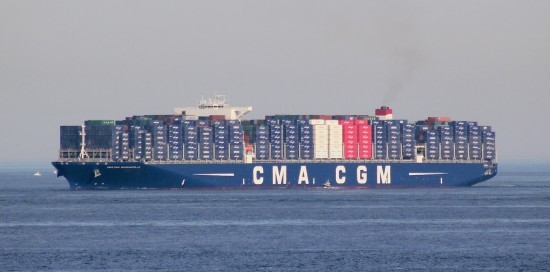 Top container carrier, CMA CGM is expected to see its debt surge to USD15 billion in 2019, according to Alphaliner.
The debt of the French shipping company is expected to rise significantly from USD9.18 billion at the end of 2018 as a result of the new capital expenditure requirements, the consolidation of CEVA Logistics' debt and changes in accounting rules.
CMA CGM has made significant investments, including USD506 million for new ships and other assets; USD502 million for a 32.9% share in CEVA Logistics and USD210 million for the acquisition of the Finland-based regional carrier, Containerships.
Alphaliner said CMA CGM still has significant capital expenditure commitments in 2019 including some USD 670 million in payments for new ships, USD140 million for vessel dry docking including scrubber installations and a further USD140 million for investments in terminals, depots and IT infrastructure. 
The company will also need to pay for the acquisition of the remaining shares in CEVA through a tender offer, which is expected to be concluded in April 2019.
CMA CGM's EBITDA earnings dropped significantly in 2018 to USD1.15 billion, compared to USD2.11 billion in 2017, while net earnings fell to only USD34 million from USD697 million a year ago. The deterioration in earnings and operating margins prompted CMA CGM to announce a new USD1.2 billion cost savings program.
CMA CGM also confirmed that its lease liabilities will increase by some USD6.2 billion to USD6.8 billion in 2019 as a result of the new IFRS 16 accounting rules.