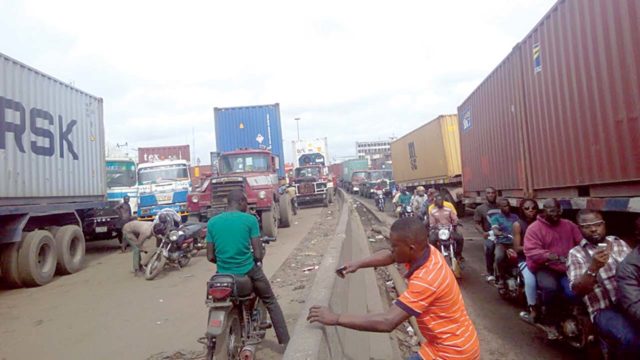 Apart from the nation's economy that is bleeding and commuters that are suffering untold hardship, truck drivers appear not to have been left out of the pains occasioned by the traumatic gridlock in Apapa. 
Some of the truck drivers who spoke with SHIPS & PORTS DAILY weekend lamented the harrowing experiences confronting them as they spend several days to cover short distances to get into the ports in Lagos. 
The experiences narrated by the truckers portend potential epidemic for the Lagos metropolis if not nipped in the bud. 
Almost all the truck drivers who spoke with SHIPS & PORTS DAILY revealed how they are pushed to answer nature's call in the most undignified manner. This is even as they become preys in the hands of armed robbers. 
"There is nowhere for me to take my bath or defecate. I usually take a bike to Marine Beach to bath but at night when I am really pressed, I look for a nylon bag to defecate in and dispose of it across the bridge," a truck driver who identified himself as Umar Mohammad told SHIPS & PORTS DAILY with tears in his eyes. 
Umar said he had been said on the bridge at National Stadium, Surulere, Lagos for two days without moving. 
"I have spent two days on the line from stadium after arriving from Kano which took me two days and it's going to take me another one week to get to the port even with my call up card to drop off the empty container.
"We normal buy bread and coke from hawkers but sometimes we go to Marine Beach to buy good food. I normally spend between N400 to N500 on Okada to and fro to buy the food," he lamented. 
Like Mohammed, Samuel Udoku, who arrived from Sapele, Delta State also said he answers nature's call in a nylon bag. 
He said, "I came from Sapele, Delta State with rubber cargo for export to China and the ship is already at the port. It took me five hours from Sapele to Lagos and to the port should take me 10 minutes but I have spent one week on the queue because no road to Tin Can port. 
"I don't know why they have refused to pass my truck. Anytime I get to Marine Beach, they turn me back. My motor boy and I have spent N15, 000 so far on feeding; we spend N2000 a day on feeding. It is quite challenging for us to take a bath. We urinate here and defecate in nylon bags." 
Another truck driver, Lawal Mohammed, who also arrived Lagos from Kano estimated that it would take him six to seven days from the National Stadium Bridge, Surulere to enter Apapa even as he had to search for a decent place to answer nature's call when pressed. 
According to Mohammed, "I have been on the queue from Ojuelegba to Alaka (a distance of less than one kilometer) for the past three day after arriving from Kano State and it will take me between six to seven days to get to Apapa port, 10 days in total.
"Most time I and my motor boy buy food from food hawkers that sometimes come around and I normally get water from the filling station not far from here and I go to a market around Shitta area to defecate or urinate and have my bath. Security is also an issue as we get robbed most nights.
Hammed Adamu who arrived Lagos from Sagamu on Thursday just to drop off an empty container also said he has faced unpalatable experience as he has to take his bath inside his empty container. 
He said, "I got to Lagos from Sagamu yesterday where I discharged my cargo and am waiting for the call-up card to off load the empty container at the port. 
"I buy food from hawkers around and usually take my bath inside the container, that's my bucket inside the container. Anytime I want to urinate or defecate, I go to the petrol station across the road to use their toilet and they also provide us with water and the security guards around also patrol the area." 
Another Kano truck driver, Ahmed Mohammed said apart from the poor sanitary condition he and his colleagues face, robbery is another challenge they have to contend with every night as armed robbers rob them with little or no resistance.
"There isn't any security around here. The day before yesterday, they broke the seal of my colleague's container and stole 54 bags of wheat at gun point around 3am. They packed their van beside the road. 
"The thieves usually come in groups and knock on your door, command you to open the seal or padlock of your container at gun point without alerting anybody. If you resist, you will be shot. They usually target containers with seal or padlock because they know it contains goods. If you have empty container, they will steal your external battery, diesel from your tank or spear tires." 
Mohammed said the armed robbers operate with impunity because "police hardly patrol around here at night".
The Apapa gridlock, which assumed a worrisome dimension this year, has persisted since 2011 as a result of bad roads and lack of truck parks.