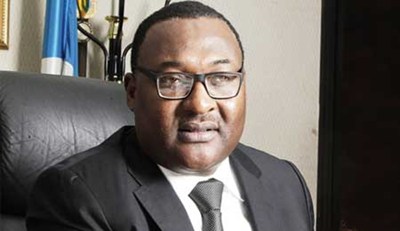 Clearing agents under the aegis of the Association of Nigerian Licensed Customs Agents (ANLCA) have vowed to challenge the registration fee recently introduced by the Nigerian Shippers' Council (NSC) for port service providers, describing it as an illegal collection.
Executive Secretary of the Council, Hassan Bello had at a meeting with shipping companies and freight forwarders held at the NSC headquarters in Lagos on Thursday, announced a 50 percent reduction on the registration fee.
Bello said the downward review of the fee followed due consultation with stakeholders.
A breakdown of the fee released by NSC showed that shipping line agencies and terminal operators would now be paying N50,000 per annum down from the initial N100,000 ; inland container depot/dry port operators will now be paying N25,000 instead of N50,000; off dock terminal operators, cargo consolidators and shipping agency (non-vessel operating agency) will pay N10,000 down from N20,000 while freight forwarders and clearing agents, haulage firms, stevedoring companies, cargo surveyors and shippers will now pay N5,000 instead of the N10,000 initially imposed by the NSC at the beginning of this year. 
According to Bello, the council was mindful about doing anything that will increase the cost of doing business at the port, adding that efforts are ongoing to streamline the multiple registrations by government agencies in order to have a central registration point at the port.
He said, "We have listened to the reactions of the people and we have crashed the price. We too should be mindful of adding to the cost of doing business. But this registration is one off for one year. The law of the Nigerian Shippers' Council mandates us to register stakeholders and the idea is to streamline the operators at the port so that we have detailed information about them.
"We are going to synchronize all the multiple registrations because it does not make for ease of doing business. For companies to register two, three or five times, that means the organizations in the maritime sector need to come together."
Bello, who announced a grace period of two months for operators who are yet to register, appealed to the service providers to formalise their registration with the council to enable it have access to the database of its stakeholders.
But in a swift reaction, National Vice President of ANLCA, Kayode Farinto said while the NSC can register stakeholders to have their database, it does not have the powes to impose registration fee.
He said, "Let them tell us the law that empowers (Nigerian) Shippers' Council to register. If you want to have database of importers, shipping companies, fine. We are not saying you cannot tell people to come and register but not when you are making it mandatory for them to come and register with a certain fee. I stand to be corrected. (Nigerian) Shippers' Council does not have that power.
"We are also going to tell our members not to pay until they can show us that law that empowers (Nigerian) Shippers' Council to register people with a certain fee. We have been talking about the fact that there are too many charges in the industry. Nigerian Shippers' Council's responsibility is to protect the importers and not to add to their problems."
Other stakeholders also kicked against the NSC registration policy, which they said will add to cost of doing business at the port.
The stakeholders had lamented the multiple charges they contend with from other government agencies including the Nigerian Ports Authority (NPA), Nigerian Maritime Administration and Safety Agency (NIMASA), Nigeria Customs Service (NCS) and the Council for the Regulation of Freight Forwarders in Nigeria (CRFFN), among others. 
Copyright 2018 Ships & Ports Ltd. Permission to use quotations from this article is granted subject to appropriate credit given to www.shipsandports.com.ng as the source.