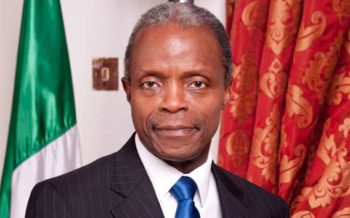 Notwithstanding the threats by the Niger Delta Avengers (NDA), and Niger Delta Revolutionary Crusaders (NDRC), to resume hostilities in the Niger Delta region, a team from the Presidency, led by the Vice President, Prof  Yemi Osinbajo, will commence a confidence-building visit to the region on Monday, January 16.
The visit, which was initially scheduled for Tuesday, January 10, was suspended soon after the Avengers, angry at the apparent refusal of the Presidency to dialogue with the Pan Niger Delta Forum (PANDEF), announced its plan to restart bombing of oil installations, last Saturday.
"The Vice President was taken aback by the threats, but he had since been reassured that the discontent in the region was caused by the same notion that will be created if the planned visit is cancelled"according to a source at the Presidency .
His first port of call is Gbaramatu kingdom, the home base of ex-militant leader, Government Ekpemupolo, alias Tompolo, in Warri South-West Local Government Area, Delta State.
The team will also visit Bayelsa, Eket and other parts of the region to obtain first hand information on the pains of the people of Niger Delta.
Deputy Governor of Delta state and Chairman, Delta State Advocacy Committee Against Oil Facility Vandalism, DSACAOFV, Deacon Kingsley Otuaro,  appealed to militants not to go ahead with their threats to resume hostilities, as the federal government was not against dialogue.
"The dialogue option has not been exhausted, so there is no need for militants to bomb critical national oil assets as a way of expressing their grievances. The Delta State Advocacy Committee is still working has been working behind the scene to ensure that peace reigns in the region and we are certain that the Federal Government is committed to the dialogue process," he added.
The deputy governor, who hails from Gbaramatu Kingdom, the heartbeat of the current agitation, asserted: "There is really need for the militants and all stakeholders in the Niger Delta to exercise patience, as the federal government is determinedly appraising the issues with a view to addressing the problems holistically."
Meanwhile, PANDEF, Thursday, urged militants and stakeholders to maintain the ceasefire deal and remain calm, saying that it could only pursue dialogue with the federal government in an atmosphere of peace.