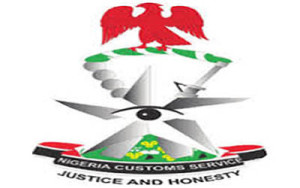 The Tin-Can Island Command of the Nigeria Customs Service (NCS) generated N256.4 billion revenue between January and December 2016.
The Customs Area Controller, Comptroller Yusuf Bashar, disclosed this in a statement made available to newsmen on Thursday in Lagos by the Public Relations Officer of the Command,  Uche Ejesieme.
According to him, this is against N266.1 billion recorded in 2015.
"This figure represents a marginal difference when compared with the figure for 2016, with a shortfall of less than N10 billion, attributable to some factors beyond the control of the command,'' the command's boss said.
Bashar recalled that in 2016, the command intercepted a large quantity of arms and ammunition based on intelligence reports on Feb. 15, March 7 and April 4, 2016, all handed over to Department of State Security (DSS)
The controller said that there was infrastructural face lift of the office complex which hitherto was in deplorable state.
He mentioned the establishment of a well-equipped clinic to serve the health needs of both officers and other members of the public.
Bashar said there was an oversight visit by the Senate Committee on Customs to the command on October 27, 2016.
He also recalled that the command seized 31 containers of rice, falsely declared as bread improvers/flavoured yeast Disodium on Aug.19, 2016.
Bashar also recalled that the command intercepted 27 x 20ft containers of vegetable oil in 25 kg kegs at Emog Terminal on Nov. 3, 2016, another case of false declaration entered as disodium chemicals.
He said that 1,395 cartons of Ready to Eat food preparations imported from India-such as Egusi Soup, Porridge Yam, Beans, Fried Rice, Jollof Rice, etc, were also intercepted by the command.
According to Bashar, a spectacular interception of eight bags of unmanifested substances in one container, were seized.
He said that the eight bags consisted of 200 fully compressed substances which were handed over to the National Drug Law Enforcement Agency (NDLEA) and later confirmed to be cocaine with a street value of N2 billion.
The controller said that some suspects were handed over to Standards Organisation of Nigeria (SON) for falsification of SON Conformity Assessment Programme (SONCAP).
He also said that some expired medicaments and expired sweets were handed over to the National Agency for Food and Drug Administration and Control (NAFDAC) on Aug. 31 and Nov. 11, respectively.
Bashar mentioned the establishment of an Information Communication Technology (ICT) Centre with 320 work stations fully networked for training/retraining and capacity building of officers and other stakeholders.
"The command's remarkable performance during the period under review attracted eulogies and encomiums, especially from the Customs hierarchy.
"These commendations which were communicated in four different letters at the instance of the Comptroller-General of Customs, Retired Col. Hammed Ali, gave testimony of the appreciation of the Service.
"It is remarkable to state that at no time in the history of the Service has any command received four letters of commendation in a
space of two months.
"That to us is a milestone which the Command will sustain in the New Year and beyond,'' Bashar said.
He thanked the Comptroller-General and his management team for providing effective leadership to the Service.
The controller said, "The issue of integrity, transparency and due diligence which is encapsulated in the Change mantra of the CGC, has provided the needed impetus for the Service to thrive.''
He said that no Command or officer would like to be a weak link in the value chain.
" It, therefore, suffices to say that we are on our toes to ensure efficiency and effectiveness.
"At the Tin-Can Island Command, we have resolved to consolidate on the gains and achievements of the past year and to do even more.
"We are operationally ready to cope with whatever challenge that we might encounter in the New Year and beyond.
"As a Benchmark Command, we are not leaving anything to chance in ensuring operational efficiency, ''Bashar said.
He said that the command was determined to forge a better synergy and collaboration with the critical stakeholders and other sister agencies for the implementation of the fiscal policies of the Federal Government.
According to Bashar, however, we wish to reiterate our zero tolerance for false declaration or other deliberate infractions.
"In this regard, all areas of revenue leakages will be identified and blocked and any attempt by an importer or his agent to circumvent the process, will be viewed seriously.
"We want to assure all honest declarants of our readiness to facilitate trade in line with global best practices.