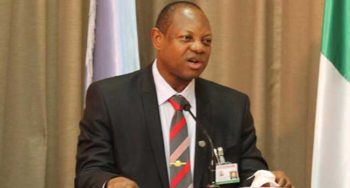 The Special Adviser to the President on Niger Delta and Coordinator of the Presidential Amnesty Programme, Brig-Gen. Paul Boroh (Rtd), yesterday had an emergency meeting with the leaders of ex-Niger Delta agitators captured under the Niger Delta Presidential Amnesty Programme in Benin City, Edo State capital.
The meeting, said to be solely for fostering peace and stability in the Niger Delta region, had leaders, state coordinators and members from all the nine Niger Delta states.
The Media Consultant to Brig-Gen, Paul Boroh, Wabiye Idoniboyeobu, said, "The meeting was a huge success; it had all the leaders in attendance. They pledged their support for the current administration's agriculture empowerment programmes for beneficiaries."
One of the leaders, Pastor Ruben Wilson, thanked Boroh for his unbiased coordination of the Amnesty Programme, stating that under his watch, the programme had transformed from a political tool to a well coordinated reintegration platform for the repentant agitators of the Niger Delta Region.
The ex-agitators, in a unanimous voice, resolved to protect the sovereignty of the country and expose anyone found vandalising oil and gas installations within their communities.
In response, Gen. Boroh lauded the ex-agitators for their perseverance, promising Federal Government's commitment to improving the lives of all beneficiaries and youths in the region at large.
It could be recalled that the Amnesty Programme has in recent times, focused on training and empowering beneficiaries in Agricultural activities. Just recently, about 200 Ex Agitators have successfully been trained and Empowered on Enhanced Agriculture at the National Biotechnology Development Center, in Odi, Baylesa State, while some others have been empowered with starter packs to start their own farms.