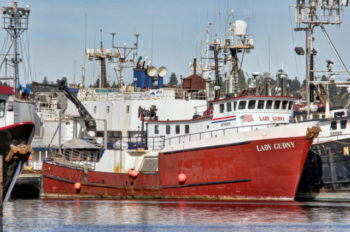 The fishing vessel Lady Gudny drifted unmanned in heavy seas after becoming dead in the water due to fuel problems 230 miles east-southeast of Kodiak, Alaska, Jan. 6, 2017.
A rather complex rescue went down in the Bering Sea Gulf of Alaska a few hundred miles from Kodiak, Alaska over the weekend but luckily it appears to have ended about as well as possible given the conditions.
The rescue actually started just after midnight last Thursday when the commercial fishing vessel Lady Gudny reported it was experiencing fuel filter issues at sea with four people on board. Within hours, the crew exhausted their supply of fuel filters and the fishing vessel became completely disabled 230 miles east of Kodiak.
On Friday, a Coast Guard helicopter hoisted all four people from the deck Lady Gudny during heavy seas and transported them to Kodiak. All four were reported to be in good health. Weather during the rescue was reported as 20 to 22-foot seas with 49-mph winds and 9 miles visibility.
Meanwhile, the Coast Guard Cutter SPAR, a 225-foot seagoing buoytender home ported in Kodiak, arrived on scene Friday morning and attempted to bring the Lady Gudny under tow. However, as the SPAR prepared to establish a connection with the disabled vessel, the tow line separated, entangling the SPAR's propellers and causing the cutter to become disabled.
Later the commercial tug Anna-T was sent to retrieve the SPAR and took the cutter under tow on Saturday. The Anna-T with the SPAR in tow arrived in Kodiak on Sunday.
The commercial tug Chahunta meanwhile was scheduled to take the fishing vessel Lady Gudny into tow Saturday evening. The Coast Guard has not reported any issues since the last update Saturday afternoon.
"This case is a testament to the difficulties of operating in Alaska's extreme ocean environment," said Lt. Cmdr. Orion Bloom, chief, 17th District Command Center. "Our response benefitted from the early notification from the fishing vessel Lady Gudny that they were experiencing fuel filter difficulties."
Copyright Ships & Ports Ltd. Permission to use quotations from this article is granted subject to appropriate credit given to www.shipsandports.com.ng as the source.