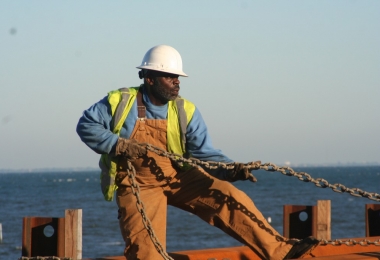 Dockworkers, mostly on-board security men under the aegis of the National Docklabour Board (NDB) have accused the Nigerian Ports Authority (NPA) of owing them two years salaries. 
A member of the so-called Docklabour Board, Paul Nwokworo told SHIPS & PORTS DAILY on Monday in Lagos that no fewer than 50 of their members have died due to untold hardships and suffering since NPA terminated the contract of the stevedoring firm that employed them in 2015.
Nwokoro also accused the Maritime Workers Union of Nigeria (MWUN) of paying lips service to their plights as the leadership of the union has refused to carry the NDB members along on consultations made so far with NPA on the issue.
He said, "We have worked up to two years now and our salary has not been paid and the reason is unknown to us. The union have refused to carry members along on what is happening. We are not among those that were disengaged in 2013, we have been working but it is December 2015 we were last paid our salaries. From January 2016 to date, we have not been paid by NPA through the contractors.
"The contractor paying us before is Longshore Stevedoring but I don't know if because they have terminated the contract, that is why they did not want to pay us. NPA did not even come to address us that they cannot pay us and the union is not telling us anything about it. When we want to mobilize our members to NPA, the union will cut us off that we should not go there.
"Almost 50 of our members have died. We were the ones that worked for (Comrade Adewale) Adeyanju to emerge as President-General of (MWUN) and we never expect that this kind of thing will happen during his own time. He is the only hope we have because he came directly from the pool.
"As I am speaking to you now, very soon I will be displaced because there is no money for rent and no money for my family to feed. Let them give us our salary and if they don't need us, they should tell us the conditions on which they don't need us," the aggrieved worker lamented.
When contacted, the President-General of MWUN, Comrade Adewale Adeyanju, said the union has sent several letters to the Federal Ministry of Labour and Employment, which has appointed a conciliator to mediate between the union and NPA to find an amicable solution to the issue.
"We are on the part of resolving this matter with the authorities concerned and they have showed remorse over their plight. 
"Already we have engaged the Minister of Labour on this matter and they have set up a conciliatory meeting between the union and NPA. The union has also written to the Ministry of Transport to expressly settle this matter," he said.
On accusation that the union is insensitive to the plight of the onboard security men, Adeyanju said, "There is no time that we hear any information that we will not call them and sensitize them on developments that there is still hope for them. We are working to ensure that these people get paid and NPA is also working on the matter. NPA requested for their names and we have sent it through their employer. NPA is also inviting their employer to give them their names too so that they can compare and contrast. "