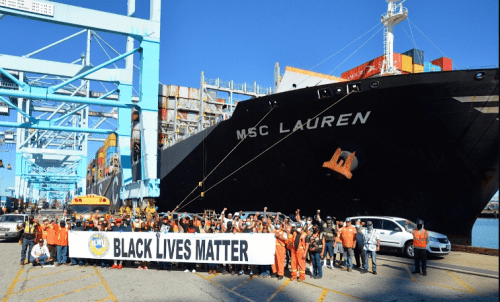 Dockworkers with the International Longshore and Warehouse Union (ILWU) stopped work and laid down their tools Tuesday morning for 8 minutes and 46 seconds moment of silence in honor of George Floyd and all victims of police brutality.
The ILWU represents dockworkers primarily on the U.S. West Coast with approximately 40,000 members in 50 local unions in California, Oregon, Washington, Alaska and Hawaii, as well as British Columbia, Canada.
"Our union has a long history of confronting racism on the job, in our communities and around the world," said ILWU International President Willie Adams in a letter to ILWU Coast Longshore Division.  "Today we're joining millions of people who are demanding justice and fundamental change."
The ILWU joined other labour unions in calling for the immediate resignation of the President of the Minneapolis Police Union.
"There is no place in the Labour Movement for a leader who defends the act of depravity that result in the death of Mr. Floyd," the letter stated.
The ILWU has also condemned all forms of racism, and states in no uncertain terms that black lives matter.
The 8 minutes and 46 seconds is representative of the amount of time George Floyd was pinned to the ground by Minneapolis police officers on May 25, 2020.
The stop work protest took place on Tuesday at 9 a.m. local time.