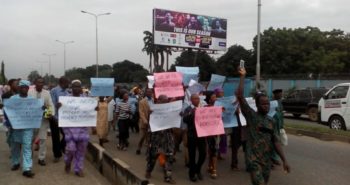 About 100 former workers of the liquidated Nigeria Airways on Wednesday protested the failure of the Federal Government to pay their severance packages running into N78 billion.
The protesting workers and pensioners obstructed the busy Lagos Airport road and caused traffic gridlock in the area.
They said the aim of the protest was part of efforts to draw government's attention to their plight as many of them have died and others homeless after government liquidated the airline in 2003.
The National Chairman, Nigerian Union of Pensioners, Nigeria Airways, Sam Nzene, said the workers were kept in the dark over the delay in payment of their entitlements.
He said President Muhammadu Buhari and the Minister of State, Aviation, Hadi Sirika were being kept in the dark on the modalities for the payment.
The workers marched from the premises of Skypower Catering Limited, opposite the Nigerian Air Force base to the domestic wing of the Murtala Muhammed International Airport and displayed various placards.
Some of the placards read:
"Please pay our severance benefits in full,"
"Our members are dying daily, Minister of Finance, come to our aid," and
"Some of our members are homeless."