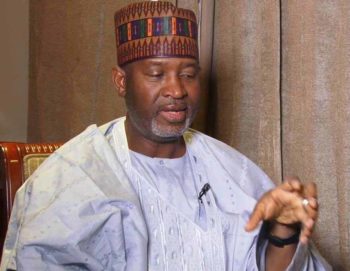 The Minister of State for Aviation, Hadi Sirika has disclosed that personnel of Aviation Security (AVSEC), a department in the Federal Airports Authority of Nigeria (FAAN) will soon begin to carry firearms across all the airports in the country.
Sirika explained that allowing AVSEC to personnel to carry arms in the course of their duties would further reduce security threats at the airports.
While speaking on Monday at an AVSEC retreat in Katsina State, the minister, who was represented by the Rector, Nigerian College of Aviation Technology (NCAT), Zaria, Capt Mohammed Abdulsalami said discussions had reached the final stage for the plan to come into effect.
He said, "The Federal government approved for AVSEC to bear arms, which is a notable achievement in this administration's effort at improving the general safety of its citizenry and passengers passing through our airports."
He said that arming AVSEC would ensure proper policing of the aviation sector, noting that it was part of efforts by the President Muhammadu Buhari administration to give the country dividends of democracy.
He said rebranding of AVSEC personnel was important in the building of brand identity and creation of a recognisable corporate identity for officers with the aim of making them much more professional and customer friendly to meet up with the initiative of the Ease of Doing Business.
Sirika said most countries had shown a keen interest in the country's growing and expanding aviation industry.
Sirika had in September last year disclosed that AVSEC personnel will begin to carry arms while on duty at the nation's various airports.
He said approval to carry firearms had been given to FAAN security personnel over a decade ago by the presidency.
He however noted that the approval had not been actualised due to operational exigencies.
"We have gone far with the profiling of those to pioneer the project. In addition, requisite logistics have been identified and articulated.
"All arrangement has reached an advance stage. As to the issue of time, let us just say very soon, we have so much to tidy up and would like to be highly professional in our preparations before execution," he had said.
Also, the Managing Director of FAAN, Engr. Saleh Dunoma in his goodwill message, said the agency was investing in aviation to create enabling environment that would encourage efficiency in tackling emerging security threats to civil aviation.
Dunoma disclosed that FAAN recently procured 10 additional patrol vehicles to boost the current fleet of vehicles for effective coverage and patrol, while additional screening machines were being procured and old ones being replaced.
Director, Security Services, FAAN, Capt USA Sadiq, in his speech observed that the industry was at a critical juncture in the global aviation industry where terrorism was assuming a new dimension.
He said aviation security remained pivotal in the actualisation of a safe and secured aviation industry in the war against terrorism.
Capt Sadiq stressed the need to close the gap created by the anomaly to adequately deploy all physical and material resources to augment in areas of lapses.
He noted that securing the airport with the Closed Circuit Television (CCTV) camera and detection equipment would enhance the function of AVSEC.