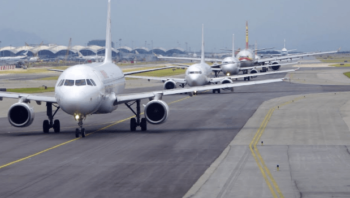 The Station Manager, Azman Air, Abdulahi Saroke, has attributed the drop in domestic flight operations in the first quarter to the six weeks closure of the Nnamdi Azikiwe International Airport, Abuja.
Saroke, in an interview on Friday in Abuja, said there was a sharp drop in passenger traffic at Kaduna between March 8 and April 17.
He explained that many domestic airlines reduced their frequency to Kaduna airport because of the reduction in traffic during the period.
Saroke said that some routes were less busy, adding that many passengers also rescheduled their movements either to travel by road or suspended their movement during the period.
"Why we have a sharp drop in the first quarter is mainly because of the closure of Abuja airport which happens to be the second busiest airport in Nigeria.
"When Abuja was shut and operations were transferred to Kaduna, many airlines reduced their frequency because many passengers rescheduled their movements during the period," he said.
The second factor, according to him, is the drop in the operations of Arik Air and Aero Contractors that have been facing operational crisis since 2016.
"As for domestic, we are still not there because the two big domestic carriers, Arik and Aero, are down which is why Air Peace and Medview are currently topping.
"Currently, Arik has drastically dropped because its number of aircraft has dropped from about 36 to five or six which is bad for the industry.
"Likewise, Aero that used to be flying frequently is currently doing skeletal operation and there are so many issues that domestic airlines are faced with," said the manager.
Saroke expressed optimism that domestic passengers flow would peak in the second quarter since the 2017 budget had been passed by the National Assembly.
He, however, called on the government to address the issues of multiple taxation and high cost of aviation fuel to help the domestic operators expand their operations.
While commending the Federal Government over the steady availability of forex to operators and fuel importers, Saroke also called for upgrading of the nation's major airports.
He noted that for an airport to be viable, there must be viable domestic carriers, adding that the country needed a viable national carrier and strong domestic carriers.
"This is because the airline business is capital intensive, it takes an investor with passion for the industry to have the patience because it is not always profitable at the beginning.
"Emirate Airlines started with just two leased aircraft in 1983 with 10 million dollars loan from its government, but today they are the biggest in the world with about 259 aircraft.
"We need a national carrier but of more importance is viable airport where a hub can be created.
"What makes an airport a hub is the traffic but what we have in Lagos and Abuja are not good enough."
Besides, Saroke called on state governors to do their best in creating business and tourism opportunities in their states to boost domestic travels.
He said that former governors of Cross River and Akwa Ibom, Donald Duke and Godswill Akpabio, respectively, were able to open up their states to visitors through tourist attractions.
According to him, the busiest routes from Abuja currently are Lagos, Yola, Kano, Port Harcourt and Owerri, while other routes like Enugu, Calabar and others are usually busy during festive periods.
"Some of these governors are not even helping matters because they are not creating business and tourist opportunities that can encourage travel in their states.
"For instance, when Akpabio was the governor of Akwa Ibom, he opened up the state for tourists, golfers and other visitors, and there was regular traffic into the state.
"Former governor Donald Duke of Cross River also did same through creation of Obudu Ranch, Tinapa, among others.
"Something must attract a visitor to a state which we lack in most of the states," he said.
The Nigerian Civil Aviation Authority (NCAA) on Monday disclosed that domestic flight operations declined by 33 per cent in the first quarter compared to the same period in 2016.
The NCAA also reported that 10,366 flights operated in the first quarter of 2017 compared to the 15,434 flights operated in 2016 by the same eight domestic airlines.
Copyright Ships & Ports Ltd. Permission to use quotations from this article is granted subject to appropriate credit given to www.shipsandports.com.ng as the source.