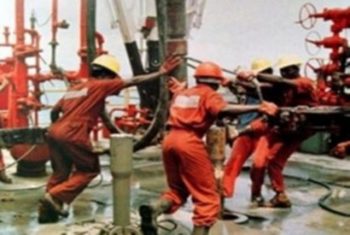 Sellers remained bullish on Wednesday, offering cargoes at high differentials on the back of strong distillate margins, but the focus was on three Indian buy tenders closing this week.
Nigeria
* BP offered a September loading cargo of Qua Iboe at dated Brent plus $1.45 a barrel.
* Recent offers for Qua Iboe were as high as dated Brent plus $1.50 a barrel. Total was showing one cargo and ExxonMobil was said to have three available.
* Distillate-rich Forcados was recently offered as high as $1.70 per barrel above dated Brent, Bonga at a 40 cent premium and Brass at a $1.30 premium.
* Earlier this week, Shell offered cargoes of EA and Bonga.
Angola
* Less than a handful of September-loading cargoes remained.
* BP continued to offer a cargo of Mondo. One trader said the level was dated Brent plus 40 cents a barrel. Total was recently offering a cargo of Dalia at dated Brent minus 40 cents a barrel.
Tenders
* Indonesia's Pertamina was running a tender to buy crude for October-delivery cargoes.
* India's IOC was also running a tender to buy West African crude loading Sept. 20-30.
* India's BPCL also issued a buy tender for September loading cargoes. The tender closes on Aug 4.
Related News
* Booming refinery profits are helping West African oil producers sell cargoes quickly, aided by a shortage in certain types of crude amid OPEC production cuts and Venezuelan troubles.
* A cut in Venezuela's supply of heavy crude to U.S. refiner Phillips 66, in part due to quality problems, is helping to send more Angolan oil west.
* Kosmos Energy, which is exploring for gas offshore Senegal and Mauritania with oil major BP, will list on the London Stock Exchange by the end of September in a bid to attract more European investors, it said on Wednesday.