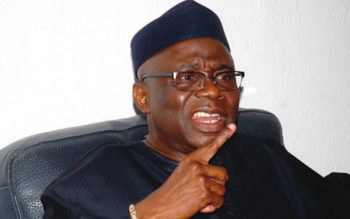 The Founder of The Latter Rain Assembly and convener of the Save Nigeria Group, Pastor Tunde Bakare, says the Federal Government must change its foreign exchange policy and lower interest rates to get the country out of recession.
According to him, the country's multiple naira exchange rates are confusing and discriminatory, while the interest rates are punitive and stifle creativity.
Bakare said this in his 'State of the nation broadcast' on Sunday, during which he noted that the hardship Nigerians were facing had led many of them to associate the change promised by the President Muhammadu Buhari-led government with "retrogression and suffering".
He, however, explained that the government could turn things around by reviewing some of its economic policies.
He said, "The way forward is not so complex for those interested in genuine change.
"To begin with, the confusing and discriminatory multiple dollar to naira exchange rates – favourable to some and not so favourable to others, and without doubt confusing for potential investors – must be discarded while a more reliable and predictable exchange rate, mutually beneficial to our people and economy and attractive to foreign investors, should be put in place."
"Similarly, prohibitive and punitive interest rates must be lowered in order to liberate the creative ingenuity of our people as well as encourage those who can access mortgages at affordable rates to become homeowners, especially if our Pension Scheme is up-to-date and robust."
He explained that the multiplier effect of the removal of the bottlenecks in the economy will cushion the effect of the current recession on our people.
"These are just two low hanging fruit solutions that demonstrate a commitment to turning the tide of decline," Bakare, who was Buhari's running mate in the President's unsuccessful bid in the 2011 presidential elections, said.
Despite criticising aspects of the Federal Government's economic policies, Bakare insisted that the Buhari administration had made progress in its quest to fulfil its promises to Nigerians.
He faulted critics of Buhari, who have attributed the country's current challenges to a lack of direction by his administration.
The cleric argued that the government had made progress in combating insecurity, tackling corruption and dealing with unemployment through the diversification of the economy.
Copyright Ships & Ports Ltd. Permission to use quotations from this article is granted subject to appropriate credit given to www.shipsandports.com.ng as the source.