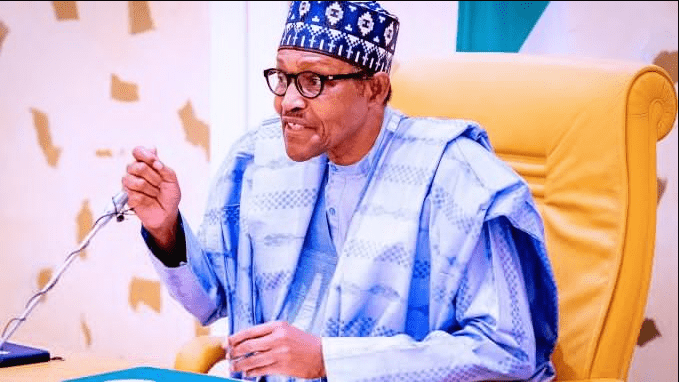 President Muhammadu Buhari has appealed to agitators in the oil-rich Nigeria Delta region to shelve their threat to attack oil installations in the region, describing it as "unnecessary".
A militant group, the Niger Delta Avengers (NDA), had in a statement on Saturday, announced the launch of "Operation Humble", to resume attacks on oil installations in the region.
NDA said it could no longer condone a situation where the South-South region, which produced crude oil for Nigeria, remained "the most underdeveloped region in the country", with their needs and interests "undermined by the failed Nigerian State".
"There is no gainsaying that the failed country called Nigeria which has fed fat on our God-given wealth is at the brink of total disintegration, owing to the security and related challenges across the country; ranging from terrorism and banditry in the North, to the secessionist gongs of the Oduduwa people of the South-West and IPOB of the South-East." the group had said in the statement.
But reacting to the threat, President Buhari's spokesman, Femi Adesina, in a statement on Sunday, quoted Buhari as saying all issues raised by the group were already responded to when the president met with the leadership of the Niger Delta and Ijaw National Congress (INC) at the Presidential Villa on Thursday.
Adesina, quoting Buhari's message when the Ijaw National Congress (INC) visited him, said issues such as the call for restructuring and the inauguration of a board for the Niger Delta Development Commission (NDDC) have all been addressed.
"I am equally concerned about the rate of environmental degradation in the Niger Delta and as you are aware the HydroCarbon Pollution Remediation Project has started work with remediation efforts in Ogoni land and I have directed the Minister of Environment to ensure that the projects are implemented with a high percentage of local content and inclusion of the surrounding communities," the statement reads.
Buhari said the National Oil Spill Detection and Response Agency (NOSDRA), under the Federal Ministry of Environment, is working to make sure that oil spills are reduced and new ones prevented.
"In addressing your call for immediate restructuring, the National Assembly whose responsibility it is to ensure that our constitution responds to the call for a restructured Nigeria, has already concluded regional consultations and as soon as they finalise the process, necessary action would not be delayed on my part.
"On the issue of fair and balanced appointments to reflect federal character principles, I reaffirm that this has always been my focus and would continue to be because I have always seen Nigeria as a country where everyone should be given equal opportunities.
"I want to assure you that as soon as the forensic audit report is submitted and accepted, the NDDC Board would be inaugurated. However, I would like to implore you that the Ijaw National Congress should play a more active role in making sure that the mismanagement that occurred in the past is not repeated," he added.