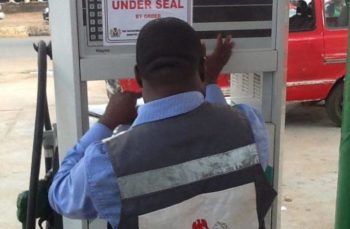 The Department of Petroleum Resources (DPR) said on Monday that 39 erring petrol stations were sanctioned in Lagos area in February, 2018 for sharp practices in dispensing petroleum products.
The DPR Zonal Operations Controller, Lagos, Wole Akinyosoye said in a statement that the offences committed by the oil marketers ranged from under-dispensing, hoarding to selling above pump price agency.
Akinyosoye said that the agency would not hesitate to clamp down on any filling station found cheating the public.
He said that ongoing monitoring of filling stations in the zone, which included Ibadan and Abeokuta, was part of government's measures of ensuring constant supply of petroleum products across the nation.
According to him, the NNPC has redoubled surveillance at the depots and retail outlets in the zone.
"We have been monitoring activities at the depots to gauge availability and ensure timely truck-out of available products.
"We have also intensified surveillance to ensure that available petrol is not sold above the N145 cap price at the pumps.
"However, we noticed that some unscrupulous operators, aware that our officials cannot possibly be at all the 9,039 registered retail outlets in Lagos at the same time, often adjust their pumps to deliver above cap price.
"Whenever they sense DPR's presence in their area, they comply and hike the price subsequently.
"We,therefore, advise that motorists should insist on obtaining receipts for the purchase from such retail outlets,'' the controller said.
He explained that DPR was expending efforts to bring erring marketers to book through imposition of fines and suspensions in line with extant regulations.
"We shall continue to expose retail outlets caught in underhand dealings and those sabotaging the government's efforts at returning to operational normalcy in the zone.
Copyright Ships & Ports Ltd. Permission to use quotations from this article is granted subject to appropriate credit given to www.shipsandports.com.ng as the source.