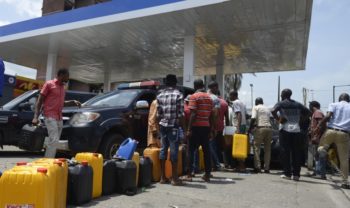 The Department of Petroleum Resources (DPR) has lamented that Kano and Jigawa states are undersupplied with petrol as their daily sufficiency level diminished to less than 30 percent.
The DPR's Operation Controller Kano/Jigawa, Engineer Buba Abubakar, made this known to journalists during a press briefing in Kano.
Abubakar stressed that the fall in supply has been a major impediment compounding the scarcity in the state.
"Kano state has sufficiency level of 87 trucks of 33, 000 litres per day while Jigawa state has sufficiency level of 33 trucks of 33, 0000 litres per day. However, what we currently have as a supply to these states is for Kano we now receive 25 to 26 trucks and Jigawa receives 6 trucks daily. As you can see there is a huge gap in the supply compare to the demand and that is why DPR is so committed to ensuring that fuel supplied are appropriately dispensed to the public," said Abubakar.
He added that 96 filling stations have been sealed by the department for product hoarding, under-dispensing and outright diversion or violation of the department's seal.
Abubakar further stated that men of the department in collaboration with security agencies will continue to work round the clock to ensure compliance to the department's mandate and that the department will not relent in sanctioning any defaulter found.