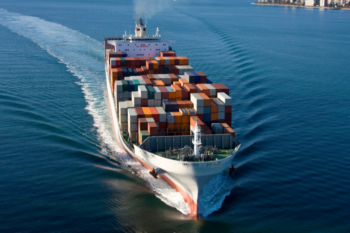 This year is one of huge correction after a disastrous 2016 for rates, buoyed at the same time by better supply and demand fundamentals, according to shipping consultancy Drewry.
Global spot market freight rates were more than one-third higher in the first half of 2017 with big increases across most trade lanes. While there is still some ground to be made up to get above pre-2015 levels there is no doubt that the pendulum is swinging quite fast towards a carriers' market.
Drewry's Global Freight Rate Index was some 36% higher after six months of 2017 versus the same period in 2016. When compared to the first half of 2015, spot rates for the first half of 2017 were still 4% lower. Despite some seasonal erosion, rates this year overtook monthly averages for both 2015 and 2016 from April onwards.
Starting with the East-West headhaul markets the rate recovery has been most prolific in the westbound Asia to Europe corridor. Drewry's Asia-Europe WB Index was up by 61% year-on-year after six months of 2017 and even performed better against the same months in 2015, being higher by around 12%.
Eastbound Transpacific rates saw slightly more muted growth this year at 33%, which was insufficient to better the first half of 2015 average. Spot rates in the Transatlantic westbound market, which is more contract-oriented, were lower in the first half of 2017 than in either the first half of 2016 or the first half of 2015.
It was a similar story in the backhaul direction with rates from Europe to Asia significantly outperforming other trades. Eastbound Europe to Asia rates were given a boost earlier this year during a temporary space shortage caused by stronger demand and alliance reorganisation, as outlined in the April trade route analysis 'Maxed out'. As predicted, backhaul rates are gradually softening on this trade and Drewry expects a further weakening in July.
Notwithstanding any seasonal fall-off, the recovery held up well in the second quarter and "should continue throughout the remainder of the year," according to Drewry. 
Copyright Ships & Ports Ltd. Permission to use quotations from this article is granted subject to appropriate credit given to www.shipsandports.com.ng as the source.