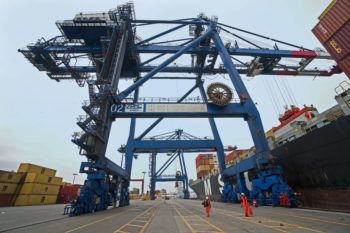 Most West African port projects are in uncertain waters amid a change in the location and nature of transhipment hubs serving the region's port market, according to shipping consultancy Drewry.
In the long run, major new port projects "will make sense, although it is unlikely that all the proposed projects can succeed," Drewry said, adding that much will depend on carrier backing.
It said two major greenfield projects have been hit by the sharp decline in Nigerian container traffic over the last couple of years. Overall regional activity has fallen by nearly 13% since 2014 with more spectacular falls in some countries, particularly those with oil-based economies such as Angola (-50%) and Nigeria (-30%).
As the region's largest port market, Nigeria had attracted two substantial new port projects, Lekki and Badagry. Originally scheduled to be operational in 2016, Lekki was backed by ICTSI and CMA CGM, but ICTSI has announced its exit from the project.
Elsewhere, the new Terminal Investment Limited (TiL) (MSC) hub at Lome, Togo, is growing fast. Having opened in 2014, it handled over 500,000 TEU in 2016. In addition, MSC recently signed a 35-year concession agreement with Ivory Coast's second port of San Pedro to upgrade and operate its container terminal. MSC has reportedly stated that that the improvements would allow vessels of up to 14,000 TEU to use the facility. Abidjan is already established as a hub port in Ivory Coast and San Pedro will join it, indicating that MSC is not going to rely on Lome as a single hub in the region.
Ocean carriers have many ways to serve the West Africa market. West Med ports have an established hub port role, serving the region from the outside, while within it Lome is becoming established thanks to Mediterranean Shipping Company's (MSC) backing.
In the West African region, lines use deep-sea services that make direct calls at a wide range of West African ports, deep-sea services that call at a few main hub ports in West Africa, from where the smaller ports are fed, as well as services where cargo is 'interlined' via West Mediterranean hubs connecting east-west loops to services that run between these hubs and the full range of West African ports.
Despite the decline in market volumes, MSC has been increasing the capacity on its single Asia-West Africa loop, where the average vessel size moved from 9,501 TEU to 11,374 TEU, a 20% increase. In first-quarter 2016, a single vessel of 11,660 TEU was operating as the largest vessel in the loop, while in first-quarter 2017 there were three vessels of over 13,000 TEU.
The calculated capacity increase of 20% on the loop therefore will only have an impact if MSC can fill the extra capacity on the occasional sailings of the larger vessels, according to Drewry.     
Copyright Ships & Ports Ltd. Permission to use quotations from this article is granted subject to appropriate credit given to www.shipsandports.com.ng as the source.