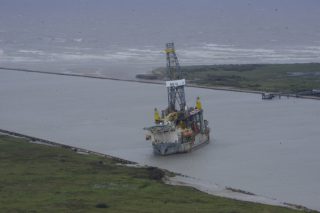 The Port of Corpus Christi is closed in the aftermath of Hurricane Harvey due to a Paragon Offshore drillship that broke its moorings and sank a tugboat before grounding at the entrance to the port.
According to local reports the Paragon drillship DPDS1 grounded after two tugboats attempted to bring the vessel under control, sinking one of the tugboats and damaging the other in the process.
Paragon Offshore reported that the crew of both vessels were safe and the drillship appeared to be "stable".
The Port Of Corpus Christi cannot reopen until Army Corps of Engineers inspect the vessel and it is refloated.
Continued bad weather has hampered the US Army Corps of Engineers efforts to collect data and assess the damage needed to approve reopening the port, said the Port's Executive Deputy Director Sean Strawbridge.