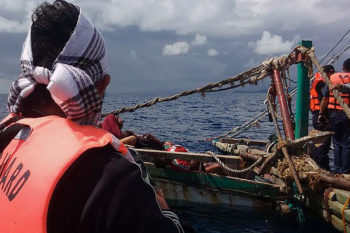 By Jite Eriabie 
Japan is set to join hands with a U.N. organization in combatting pirates belonging to an Islamic extremist group in the Philippines.
The Islamic extremist group Abu Sayyaf, which is apparently loyal to the Islamic State (IS) militant group, has attacked numerous commercial vessels off the Philippines. As part of its efforts to step up countermeasures against terror in Asia, Tokyo will support maritime police forces in the Philippines and other countries to prevent extremist groups from expanding.
The latest move is part of an action plan on anti-pirate measures that Japan and the United Nations Office on Drugs and Crime (UNODC) signed in Vienna on Aug. 28.
The Sulu Sea and the Celebes Sea in the southwestern Philippines are part of a route for commercial vessels transporting iron ore from Australia to Japan, China and other countries. In recent years, acts of piracy by Abu Sayyaf and other terrorist groups are intensifying in the area. According to the nongovernment organization Oceans Beyond Piracy, there were 38 cases in which pirates attacked commercial and other vessels in the area last year. In 21 of these cases, pirates kidnaped crewmembers and demanded ransom for the release of the hostages.
Meanwhile, there has been an ongoing battle between militant groups including Abu Sayyaf and government forces since May, following an attack on the stronghold of a high-ranking member of Abu Sayyaf, who is known as the IS leader in Southeast Asia, on Mindanao in the southern Philippines. It has been pointed out that the Philippines could be a hotbed for the IS.
Concerned about terrorists entering Japan prior to the Tokyo Olympics and Paralympics in 2020, the country is poised to cooperate with the UNODC, which has expertise in combatting pirates off Somalia, in anti-terror measures off the Philippines. The joint forces will provide maritime police in the Philippines and surrounding countries with effective methods for identifying and chasing pirate ships to help them crack down on pirates. Source: The Mainichi.  
Copyright Ships & Ports Ltd. Permission to use quotations from this article is granted subject to appropriate credit given to www.shipsandports.com.ng as the source.