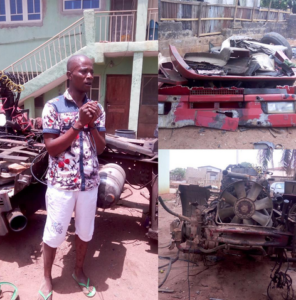 Operatives of Rapid Response Squad of the Lagos State Police Command have arrested a driver who connived with three other persons in diverting his company's 600 bags of flour before selling off the truck in pieces.
The suspect, Garuba Lawal, 36, from Kwara State, connived with three others now at large and diverted the 600 bags of flour to Sagamu, Ogun State. The product was thereafter given out to a buyer, while he took the truck to Ilorin, Kwara state, where it was dismembered and sold in pieces.
Garuba, who was recruited by the company (name withheld) the same day to move the 600 bags of flour to a bakery in Ibadan, Oyo State, was baited with N2 million by his accomplices to do their bidding.
The suspect, in his statement to the police, disclosed that after loading the product on Sunday at the Nigeria Flour Mills in Apapa, a young man, whose name was later given as Ismaila from Oyo State, with two others enticed him with N2m.
He added that he swallowed a cowrie given to him by them which according to him probably twisted his sense of reasoning. He said the cowrie was supposed to be a sign of covenant between them.
"I took the cowrie and swallowed it. Immediately I did that, I observed that whatever instruction he gave me, I was just obeying it without a second thought."
After they arrived in Sagamu, the source said that Garuba was informed that the head of the truck had to be removed for a small one because it could not enter the warehouse the goods were to be offloaded.
Investigation revealed that the gang that diverted the flour are the same gang which has been involved in several diversions of other products.
Arrested along with him were Jimoh Adeleye, Wasiu Azeez and Adeniran Jacob.
Confirming the development, the Police Public Relations Officer, Assistant Superintendent of Police, ASP Olarinde Famous Cole, said that there would be no hiding place for those who come to Lagos to perpetrate crime, adding that the police would fish them out of their hiding.
All the suspects have been transferred to the State Criminal Investigation Department for further investigation and prosecution.