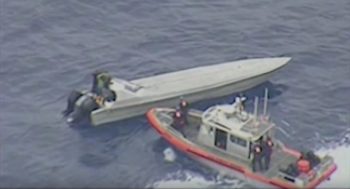 By Jite Eriabie  
Since the tragic death of U. S. Coast Guard Boatswain's Mate Chief Petty Officer Terrell five years ago the efforts of cartels to smuggle drugs with the use of small high-speed panga boats has only intensified… and now the cartels have a new weapon they are using to invade America's Pacific Coast.
The Coast Guard offloaded more than 47,000 pounds of cocaine worth over $721 million from the Coast Guard Cutter Stratton, in San Diego, on Thursday, in a joint operation of U.S. and Canadian forces operating in the Eastern Pacific. Senior U.S. and Canadian officials used the opportunity to discuss new vessels and tactics used by drug cartels.
"The threat of transnational organized crime is a danger no one ship, agency, country or person can address alone," said Vice Adm. Fred Midgette, commander, U.S. Coast Guard Pacific Area. "We stand alongside our interagency and international partners resolved in a shared purpose to protect those harmed by these dangerous drugs and bring the criminals who smuggle them to justice."
The crew of U.S. Coast Guard Cutter Stratton stopped two of these new low profile go fast boats in three days, resulting in the seizure of more than 5,800 pounds of cocaine worth almost $78 million. According to reports these new boats are similar in appearance to cigarette boats, are very fast and, due to their low profile, are difficult to detect on radar. The boats are muted green tones to camouflage their hulls.
New Low-profile go-fast boats represent four of the 23 cases being turned over to federal agents during Thursday's offload. Remaining cases also involved a fishing vessel and fast open-hulled panga boats with multiple outboard engines. This offload showcases the variety of tactics and methods of conveyance cartels use to evade military and law enforcement detection.
The Coast Guard will also help offload more than 3,300 pounds of cocaine seized by Her Majesty's Canadian Ship Nanaimo apprehended in international waters off the coast of Central America.  
Copyright Ships & Ports Ltd. Permission to use quotations from this article is granted subject to appropriate credit given to www.shipsandports.com.ng as the source.