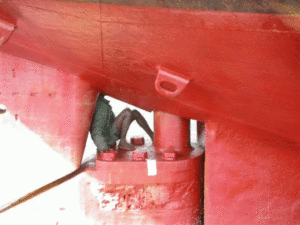 A Liberian, Roy Edward, who smuggled himself on-board a foreign vessel in Lagos, said he has for long wanted to travel to the United States of America and the America-bound ship that he and some others worked on presented what he hoped was the opportunity for him to achieve that dream.
The 24-year old Liberian was arrested with 15 others on-board MV Colombia River by naval operatives attached to the Nigerian Navy Ship (NNS) BEECROFT, Apapa.
The 16 stowaways were optimistic they were already on a voyage to the United States before they were arrested.
Roy who said he arrived Nigeria four years ago in search of greener pasture, said he grabbed the opportunity of fulfilling his childhood dream of traveling to America when he saw it.
He said, "I am a casual worker. Along with many Nigerians, we off-load imported cargoes from vessels at Apapa port. We are paid about N200 per hour to off-load any cargo. The amount of money you make depends on the length of hours you work. At times I make as much as N5,000. We went on board the vessel as casual workers. We were told that the ship was in Nigeria to discharge cement and rice. It was while I was working that we heard that after discharging, the vessel would be heading back to America. Then I told myself that this is the opportunity I have been waiting for since I don't have enough money to finance myself to America. One day I drew a plan of hour to smuggle myself Onboard after the ship would have finished discharging her content.
"I was told that the journey by sea would take us weeks to get to the US, so I bought packets of biscuits, noodles, pain killers and bags of searchet water. I smuggled all these items on board the ship one night. When it was time for the ship to depart, I hid myself on the top deck. We were still within Lagos waters when some naval officers stormed the ship and arrested me along with others, honestly I never knew that there were others like me on the voyage."
The Liberian who pleaded for pardon, said it was the urge to break away from the grip of poverty that drove him into the act.
It was gathered that the arrest which was effected on Friday morning at the Lagos Fairway Bouy, was sequel to a distress signal sent to the Regional Search and Rescue Coordination Centre based at the Headquarters of the Nigerian Maritime Administration and Safery Agency (NIMASA).
It was learnt that this in turn alerted the Nigerian Navy who immediately sent its vessel NNS Karaduwa to the location.
It was further leant that on arrival on board MV Colombia River, the 16 stowaways were apprehended. Sources said one of the suspects sustained an injury on the shoulder while attempting to escape arrest.
Copyright Ships & Ports Ltd. Permission to use quotations from this article is granted subject to appropriate credit given to www.shipsandports.com.ng as the source.