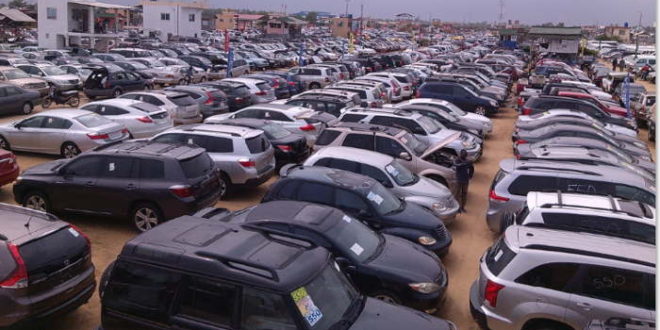 Some Nigerians who are still interested in participating in the Customs online auction of seized vehicles have expressed concern over the rate at which pictures and names of Customs officers are being used by fraudsters on social media to dupe unsuspecting members of the public.
The Nigerians who expressed their dissatisfaction over the abrupt suspension of the online scheme complained that customs has not done much to curtail the trend by putting in place stiffer penalties to punish online fraudsters to serve as deterrent to others.
Recall that the NCS had in July last year introduced an electronic platform to conduct auction of seized vehicles away from the old manual auction of goods at the ports and border stations amid malpractices.
The scheme has however been suspended for over 12 months due to what the Service termed 'technical issues' it is experiencing with the system.
Since the suspension of the scheme, online fraudsters have been on the prowl, adopting auction sales as latest trick to dupe victims. As a result, hundreds of Nigerians are daily falling prey to these fraudsters by falling for offers of cheap vehicles particularly the ones advertised on the social media.
After advertising the vehicles using the picture and name of a customs officer, the victims would then be given a bank account in which they would deposit the sums they intend to pay for the vehicle they are interested in. But once payment is made, the fraudsters vanish into thin air and their victims would never set their eyes on them or the vehicle they had paid for.
One of the face book users, Vino Davies who posted his comment on the Customs official face book page said, "What have you people done to track down arrest and prosecute the fraudsters to serve as deterrent to others? It is because you people do nothing about it that is why the fraud continues. Your intelligence unit should be more active. Or are officers sharing in the gains of fraud?
Others who also shared their post expressed concern over those who constantly posts auctioned vehicles online for sales wondering if they have any connection with Customs.
Edet Effiong Ibok said, "My most concern is those using some senior officers' name and picture to defraud members of the public. Something serious should be done by the agency to deal with this people because this is getting out of hand.
On his part, Tope Mathew Omowole said, "The rate at which customs officers images are been used on face book to swindle people is rather on the high side.
Another face book user, Martin Obidah wondered why Customs has not made any official statement 10 months after it suspended the online auction of seized vehicles.
"What happened to your e- auction that was launched sometimes back? Thousands of Nigerians were made to pay money to pre qualify us to bid but the bid has been suspended over 10 months ago without any information as to why? You need to come out clean on this as your integrity is at stake,"
In reaction to the comments by the face book users, the NCS however warned that it never advertises auctions on face book nor twitter noting that the Service cannot transact any business using the personal bank account of any official.  It added that payments to NCS are made to designated banks and remitted to Federal Government.
The Service also explained that auctions of goods are not a function of just the NCS alone as there are a total of 18 government agencies involved in the public auction of condemned vehicles.