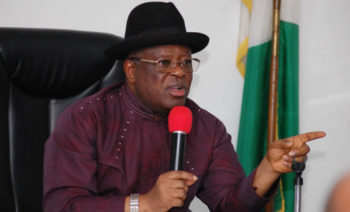 Ebonyi State Governor, David Umahi, on Wednesday said that the State Government would build an airport next year.
He made this known while receiving a delegation of Ethiopian Airlines officials, who paid a courtesy visit on him in Abakiliki, the state capital.
Umahi noted that the airport might not be the biggest in the country but would be the most functional and beautiful.
He said, "There is nothing we say we would do in this government that we cannot do.
"The State Government's business consultants would also liaise with you to assist government officials, who intend travelling, to obtain discounted tickets."
The governor, however, complained over what he described as the quality of Ethiopian Airlines planes servicing Nigeria.
He said, "Ethiopian Airlines send sub-standard aircraft to the country, especially the ones sent to the Akanu Ibiam International Airport, Enugu.
"But when one gets to Ethiopia, the person flies on planes of higher standards. You should seriously deliberate with your management on this issue.
"I have also complained about Emirates Airlines on such issues as one flies on more beautiful airplanes on getting to Dubai.
"I will not allow such situations if I were Nigeria's president because we have to be treated like citizens of other countries by the airlines."
He also complained about the lengthy time passengers spend waiting to board Ethiopian Airline flights.
Umahi said, "I am the chairman of the South East Governors Forum and I'm not happy that no Ebonyi citizen works with the airline.
"We cannot patronize you if you do not patronize us as the Enugu centre is for the entire states in the South East zone."
Umahi suggested that the airline should dedicate flights that would fly through Enugu to Abuja and Lagos, especially those that would fly in the evenings.
He said, "The route to Lagos and Abuja from Enugu is viable and such flights can take passengers to those places by 4 p.m. and bring back those who want to return to Enugu by 5.p.m."
The leader of the delegation and Traffic and Sales Manager of the airline's, Enugu Office, Solomon Mengistu, noted that the airline acknowledged the importance of the South-East states to Nigeria, West Africa and the entire African continent.
He said, "We are the only international carrier in the South East zone and we intend to strengthen our relationship with the region generally and Ebonyi in particular.
"We are continually improving our products and services to meet our customers' expectation as Enugu is our chosen gateway into the south-east.
"This translates into the three-time flights to and from the Akanu Ibiam International Airport, moving people and cargo and thereby connecting the region and the world."