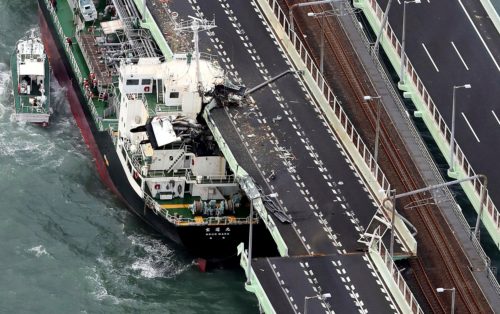 A major airport that was cut off when a huge typhoon smashed through its sole access road, is being evacuated.
Winds up to 216 kilometres (135 miles) per hour ripped off roofs, overturned trucks and swept a 2,500-ton tanker into a bridge leading to the airport, the region's main international gateway and a national transport hub.
The damage to the bridge left the artificial island temporarily cut off, stranding 3,000 travellers and additional staff overnight.
This is as Japan grapples with devastation caused by its most powerful storm in a quarter of a century.
Runways were flooded as high waves washed into the facility on Tuesday, knocking out electricity and inundating buildings.
Boats and buses were ferrying stranded passengers from Kansai International Airport; one of the country's busiest, after thousands of people were forced to spend the night in the partially flooded facility.
At least ten people were killed, and hundreds more injured by Typhoon Jebi as it raked through the major manufacturing area around Osaka; Japan's second city, wrecking infrastructure and destroying homes.
On Wednesday, boats began ferrying people out of the airport, and buses began to run on one side of the damaged bridge after safety inspections.
"We don't know how many hours we need to bring everyone out but we're doing our best to finish it by the end of today," Kansai airport spokeswoman, Yurino Sanada, told AFP.
She could not confirm how many people had left the airport so far, and there was no indication when the facility, which runs over 400 flights a day, might reopen.
"We had a blackout so there was no air conditioning. It was hot," a woman told public broadcaster, NHK, after being ferried to Kobe.
Temperatures have hovered around 30 degrees Celsius (86 Fahrenheit).
Evacuation advisories had been issued for over 1.2 million people, but it was not clear how many had heeded the warnings
"I'd never expected this amount of damage from a typhoon," she said.
"I couldn't sleep, but I'm relieved because I thought I might not be able to get out," another woman told the station.
Local media said the death toll in the storm stood at 11, with over 600 people injured.
Prime Ministe,r Shinzo Abe, tweeting on his official account, said the government was working to get the airport back online.
"We continue to make utmost efforts to respond to disaster damage and restore infrastructure," he said.
Agency Report