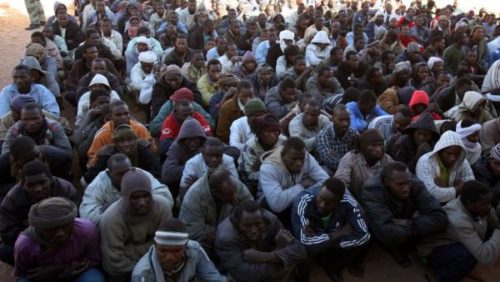 Hundreds of African migrants escaped from a detention centre in Tripoli on Tuesday as fighting between rival groups raged nearby, an aid official said.
Although the Libyan government department set up to combat illegal migration denied the report, a video posted on social media on Tuesday purportedly showed hundreds of Africans, some carrying plastic bags, walking in a long line away from the detention centre.
The centre is located on the road to the former Tripoli International Airport, which was destroyed in a battle between rival militias in 2014.
Libya is a major departure point in North Africa for migrants crossing the Mediterranean Sea to Europe, mainly from other parts of Africa.
The aid official, who works for an international organisation, said as many as 1,800 migrants might have escaped the facility on Tuesday. It was unclear where they had gone.
If confirmed, this would mean that almost a quarter of Libya's jailed migrants, mostly Africans, are on the run. Most had been jailed after the Libyan coast guard intercepted their makeshift boats bound for Italy.
Fighting between rival Libyan groups lasting for more than one week has spread from the airport, located south of Tripoli, towards the city.
Tripoli is formally controlled by the internationally recognised Government of National Accord, but armed groups working with it act with autonomy. Eastern Libya is controlled by a rival administration.
Last Thursday U.N. agencies and authorities relocated hundreds of migrants from government-run detention centres in southern Tripoli to safer locations.
In a further sign of chaos, some 400 prisoners also escaped on Sunday from a jail in southern Tripoli, forcing open the doors as the guards retreated.
The number of illegal migrants crossing the Mediterranean to Europe has fallen off sharply since Italy provided the Libyan coastguard with more boats and brokered deals with local groups in a smuggler hub last year.
Agency Report