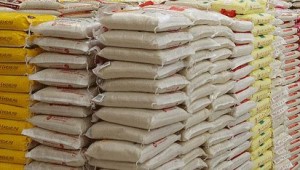 The Ebonyi government is to enforce its ban on the sale of foreign rice in markets and other outlets in the state.
Governor of the state, David Umahi, revealed this when participants of the armed forces command and staff college, senior course 39, Jaji, visited him in Abakaliki on Monday.
According to the governor, the order would soon be enforced to ensure that the residents patronize homegrown Ebonyi Rice.
"I will personally lead a task-force, consisting of the State Executive Council members to various markets and enforce the order," Umahi said.
"Individuals who are selling the produce will provide certification of its quality because most of the rice brought into the state is not parboiled."
"Any rice that is not parboiled after six months turns to chaff as most of them brought into the country stay for about 10 years before being imported."
"The rice then becomes poisonous and we have banned cooking of non-Ebonyi rice inside the state's Government House, hotels and public functions."
"The Ebonyi rice still presents its unique taste even when cooked without meat and we will give you some quantities for attestation."
The governor remarked that the state had three functional rice mills and would inaugurate mills in the 13 Local Government Areas of the state before the end of 2017.
"When we conclude the inauguration, we will consult our stakeholders who show zeal and commitment but may not have money to purchase the mills," he said
"We will then aggregate and sell the mills to them with government maintaining about 20 per cent minimum equity shares and the stakeholders-80 per cent."
"This is the type of Public Private Partnership (PPP) we will be engaging, in line with the theme of your study-`tour of the state'."
Leader of the delegation, Michael Okonkwo, said the study tour was one of the programmes that enabled participants to study the socio-economic problems that confront the country.
"The theme of the tour is: Enhancing Economic Development through Public-Private Partnership", as we aim at evaluating aspects of the theme that concerns Ebonyi," Okonkwo said.
"We are the third group of the study-tour consisting of 27 members and nine other groups are touring other states of the country for the same objective."
"The other selected states include: Anambra, Gombe, Cross River, Kano, Nasarawa, Niger, Rivers, Taraba, and Zamfara."
He said each team required to write a report and make a formal presentation to the college on their observation in the visited states
"We will be glad to have the governor or his representative at the collage during the report presentation in January. I will make a formal request on that through a letter.
Copyright Ships & Ports Ltd. Permission to use quotations from this article is granted subject to appropriate credit given to www.shipsandports.com.ng as the source.