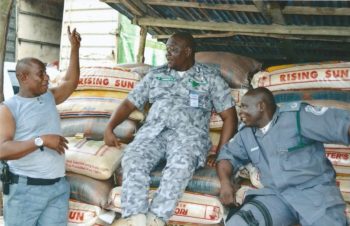 The Nigeria Customs Service (NCS), Federal Operations Unit, Zone B, says it intercepted 1,825 bags of foreign rice and other commodities from smugglers in Katsina State in May 2018.
The Controller of the unit, Usman Dakingari, made this known to journalists in Katsina on Wednesday.
Dakingari said that the unit impounded 35 vehicles used by the smugglers in bringing the commodities into the country.
This is in addition to 1,175 bags of sugar; 1,750 cartons of spaghetti; and 98 jerry cans of vegetable oil during the period under review.
Dakingari said, "Our efforts to prevent smuggling has been challenging and rewarding.
"Smugglers are using various ways to do their illegal business. We are working and making progress," Dakingari said.
He noted that rice smuggling in the country had reduced due to intensified efforts of Customs.
The FOU boss urged consumers with a high taste for foreign rice to change their habit because they did not know when the commodity was produced.
"It is not the production and expiry dates that matter; most smugglers re-bag the rice and write expiry date to deceive customers," the controller said.
He explained that the government banned the importation of foreign rice to encourage local production and safeguard the health of the citizens.