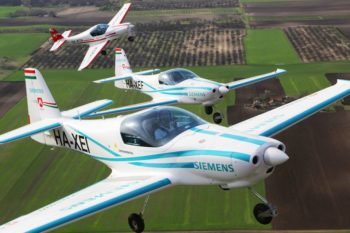 Experts from Siemens are helping Hungarian authorities with their investigation after an experimental aircraft powered by one of the German company's electric motors crashed, killing its pilot and passenger.
The single-engined Magnus eFusion aircraft crashed shortly after take-off at an airfield near Budapest on May 31, Siemens said on Wednesday, confirming reports that had appeared in other media.
"We can confirm that an accident happened to an experimental aeroplane featuring our electric propulsion unit," Siemens said in a statement.
Siemens could not comment on the cause of the accident and said it was working with the Transportation Safety Bureau of Hungary, the Hungarian Aviation Authority Bureau and local police. A team from Siemens in Hungary was also helping with the inquiry to establish the cause, a company spokesman said.
Siemens has been working with Magnus, a Hungarian aircraft manufacturer, for more than two years, and supplied an electric engine and components for the aircraft that has been flying since 2016.
"As a precautionary measure we decided to ground the Magnus eFusion aircraft fleet until we know the cause of this tragic accident," Siemens said. The grounding order will affect three other Magnus eFusion planes.
Siemens in recent years has been working on developing electric motors for aircraft, and two years ago signed a collaboration agreement with Airbus to develop propulsion systems for electrically-powered passenger planes.
Agency Report