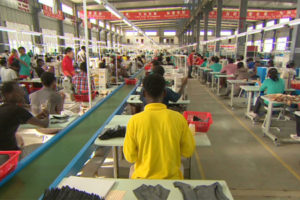 An Industrialist and ex-Chairman, Adhama Textiles & Garments Industry Ltd, Alhaji Saidu Dattijo Adhama has urged Nigeria not to reject the European Union, EU's Economic Partnership Agreement, (EPA), saying the package would create a minimum of 500,000 direct jobs with direct income of N2,000 on daily basis for youth if signed.
Speaking with journalists in an interview in Kaduna Tuesday, he advised the Nigerian government to take a second look at the agreement, saying the initiative will reduce crimes in the country.
He said: "Many other African countries have signed the agreement and we from the Textiles Cotton and Garment, (TCG) and from my understanding, I always said a minimum of 500,000, will get direct job with direct income of N2,000 daily. This is important development if we are to go with it on the issue of unemployment."
According to Textile expert, both states and local governments will benefit immensely from the package in terms of revenue aside the peaceful atmosphere being anticipated.
He added, "It will enable Local Governments and States to get some revenue. It will create rooms for peaceful atmosphere of all people. We need peace, and with poverty we will never get peace, and without job opportunities for people, there will definitely be poverty, poverty breed crises, create trouble and crimes."