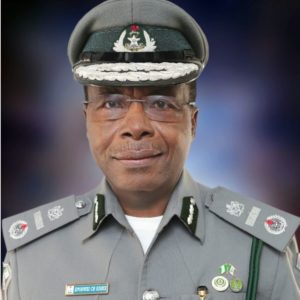 Amidst encomiums, Assistant Comptroller General of Customs, (ACG) Charles Edike, on Thursday retired from the Nigeria Customs Service (NCS) after serving for 35 years.
Until his retirement last week, Edike was the Commandant, Customs Command and Staff College/World Customs Organization (WCO) Regional Training Centre, Gwagwalada, Abuja.
Edike, one of the finest officers of the NCS, had during the period of his career brought to bear his wealth of experience in the different postings he held.
Apart from serving as Zonal Coordinator in charge of Zone A, which comprises all Customs formation in the South West region, including Lagos, Ogun, Oyo, Ekiti and Osun commands, Edike also served as ACG Human Resources at the Customs headquarters.
Before becoming an Assistant Comptroller-General, he served as the Controller, Murtala Airport International Airport Command, Apapa Area Command and Tin Can Island Area Command. He was headed a Joint Task Force of Customs, ICPC and EFCC officials set up to recover government revenue. 
Edike demonstrated high resourcefulness when he ensured that the premiere port command generated adequate monthly revenue particular in 2014 when importation of rice, a major commodity that the command relied on for more than 70 percent of its revenue dwindled drastically due to government policy.
He also ensure the success of the implementation of the Customs Pre- arrival Assessment Report (PAAR) as the Apapa Command during his tenure was used as the pilot stage of the process.
It is also on record that the NCS realized a total of N1.607 trillion through Edike at the various commands and zones he was privileged to head.
Speaking with SHIPS & PORTS DAILY shortly after a retirement thanksgiving service held at the Customs Command and Staff College, Abuja, Edike said his greatest achievement in the NCS was human capacity development. 
He said the college during his tenure as commandant graduated the first senior and junior courses while the second senior and junior courses were ongoing. 
He said, "For me, the greatest achievement is impacting knowledge to people because this knowledge will make officers generate much more than the N1.6 trillion that I have in my record. 
"The human capacity development that I have done throughout last year and this year is the greatest achievement being the commandant of the Nigeria Customs Staff College, Gwawalada.
"To me, that is the best and the icing on the cake. All through my career, I have been on the revenue operations; this last posting of impacting knowledge to people to me is the greatest.
"At the college, we have the senior and junior courses. For the senior course, the officers will be there for five months while for the junior course, officers will be there for three months." 
Many Customs officers and stakeholders who interacted with Edike during his tour of duty were full of praises for him.