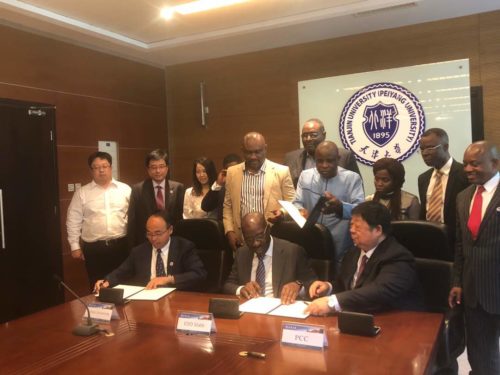 Edo State government has signed a Memorandum of Understanding (MoU) with a Chinese firm, Peiyang Chemical Equipment Co. Limited (PCC) to build a modular refinery in the state.
The 1,000 barrel per day refinery is expected to be completed in April 2019.
The MoU was signed in Tianjin, China by Edo State Governor, Godwin Obaseki, PCC President, Huaming Tian and Vice President of Tianjin University, Hu Wenping.
The university owns 51 percent interest in the company.
Speaking after signing the agreement, the governor explained that Edo state is collaborating with the university because of its key competence in emerging engineering technology.
As a result of the collaboration, he said the university offers the state an agreement to provide scholarships for Edo students to study engineering and build technical manpower in areas that relate to oil and gas.
Obaseki said the project would provide job opportunities for the teeming youth in Edo as well as make the state become a hub for petrol chemical industries in Nigeria.
He said, "We emphasise on technical education for our young people. Anything we are doing today must have a job creation component. So, investment in modular refinery and oil and gas technology must have a technical training capacity.
"We have the largest onshore gas reserve. We want to see how we can leverage on some of the natural resources we have to ensure that we build an industry that is local and sustainable."
The Vice President of Tianjin University, Hu Wenping, said the Forum on China Africa Cooperation (FOCAC) provides the university opportunity to collaborate with Edo, being one of the oil producing states in Nigeria.
The collaboration, he said, would enhance relations between Nigeria and China.