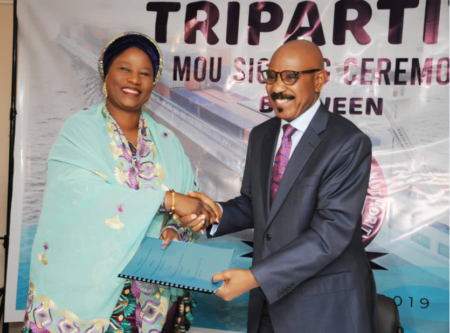 The National Inland Waterways Authority (NIWA) has signed a Memorandum of Understanding with the Nigeria Export-Import Bank (NEXIM) and Sealink Promotional Company Limited, which now recognises the pivotal role of Inland Waterways in national economic development.
According to a statement signed over the weekend by NIWA General Manager, Corporate Affairs, Tayo Fadile, the tripartite MOU signing is a deliberate attempt to bridge the infrastructure gap and provide an alternative mode of transportation for the evacuation of economic goods and persons on the nation's inland waterways.
NIWA Managing Director, Senator Adeleke Olorunnimbe Mamora, during the MoU signing was quoted as saying that "NIWA is delighted to partner with NEXIM and Sealink promotional company and its strategic consortium partners in the facilitation of bulk cargo movement on inland waterways and promoting hinterland and transit trade.
"The MoU will hopefully encourage efficient transportation system in line with global best practices that is safe, seamless and affordable.Ir will also support River Port development and modernisation of existing NIWA facilities across the nation.
"Finally, the MoU will support the survey, underwater engineering works, removal and disposal of wrecks among several other projects geared towards improving and developing inland waterways navigation.
"By the time the MoU is fully implemented, Nigeria's Inland waterways will never be the same. This is good news to all stakeholders on Nigerian Inland Waterways. This positive development will better position NIWA to provide ways and means on Nigerian waters."