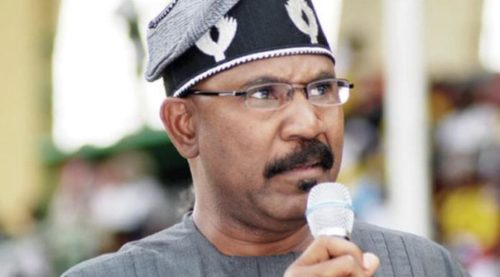 The Managing Director of National Inland Waterways Authority (NIWA), Sen. Olorunibe Mamora, has promised to opt for an out-of-court settlement in the face-off between the Authority and Lagos State Waterways Authority (LASWA) over control of inland water transportation in the state. 
Both NIWA and LASWA have been in court for almost a decade over control of Lagos waterways, issuing of permits to operators and collection of revenue.
Mamora, who spoke in an exclusive interview with SHIPS & PORTS DAILY in Lagos, said the face-off between both agencies is based on revenue and not on any supremacy battle.
He however stated that there is need to reach an amicable resolution, noting that government at all levels must collaborate to achieve a common goal for the benefit of the people.
He said, "For me, it should not even be an issue of supremacy because government at all levels are supposed to collaborate and be in synergy. What are we set out to achieve? It is the good of the people and if that is the goal; we don't need any battle of supremacy at all.
"Fortunately, on one of my very first outings, that was the question I was asked even though we were discussing the issue of security and I made it clear to them that the issue between Lagos and the Federal Government regarding the inland waterways is not issue of security, it is an issue of revenue and I made it clear that I believe in amicable resolution.
"Lagos and Federal Government have been in court for over a decade and in all these years, who is losing? The two sides! My approach is to have an out-of-court settlement and amicably too. Once we agree in principle that we want this thing resolved in the interest of the people, all we have to work out is simple modality. Again, I must quickly add that there is enough for everybody's need but not enough for everybody's greed.
"There are so many jetties from Badagry to Epe to Ikorodu. That is why I said there was enough for everybody's need. We can always agree on how we share out even locations or our operations but the big problem is that we just must ensure that at the end of the day, we do not subject our people to multiple taxation. That is the issue because the goal of government is for the good of the people.
"Hopefully, sooner than later, I intend to seek audience with Governor Akinwunmi Ambode of Lagos because I need to take it from the top and once the governor buys into it, in terms of what we are trying to do, I think every other thing will follow. So, it is one of my priorities, it is one of the things I intend to do. It is one of the expectations of the people out there and we intend to resolve it once and for all."
Speaking on measures put in place to stem the tide of incessant boat mishaps in the country, the NIWA MD said the authority has embarked on increased awareness campaign and sensitization with not just boat operators but also with community leaders on the need to always wear life jackets.