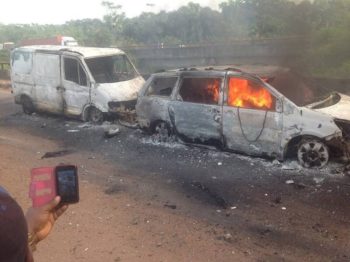 The Federal Road Safety Corps (FRSC) has confirmed that 53 persons were burnt to death in a motor crash that occurred on Thursday evening at Abudu town along Benin-Agbor-Onitsha express road.
It said eight vehicles, including one motorcycle,were involved in the accident.
Other vehicles are two commercial Toyota hummer buses, one Dyna truck, one tanker carrying petrol, one ford bus and one Toyota Corolla.
An eyewitness said security agents and officials of FRSC watched helplessly as the victims burnt to death as there was no fire service station at Abudu town, headquarters of Orhiomwon local government area.
A statement released by the FRSC Edo State Sector Command on Friday morning said five other persons sustained injuries and have been taken to the hospital for treatment.
 The statement said everyone in the two hummer buses, Toyota sienna,and corolla car burnt to ashes.It attributed the cause of the accident to brake failure, which led to explosion from the tanker.
The statement said Health officers from the local government authorities have been invited to take charge of mass burial for the victims.
When contacted for comments, FRSC Sector Commander, Samuel Olukoya, said he was on his way to Abudu to get first-hand information.