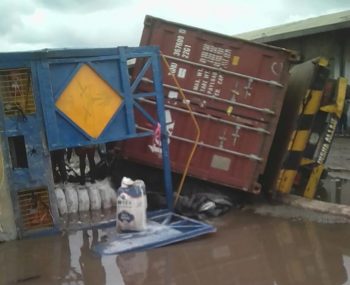 The Federal Road Safety Corps (FRSC) said on Wednesday that tankers and trucks owners would now be prosecuted alongside their drivers involved in accidents, as a result of reckless driving.
The Lagos State Sector Commander, FRSC, Hyginus Omeje, disclosed this in an interview with newsmen in Lagos.
"If your truck is involved in an accident and it kills anybody, in addition to prosecuting such drivers for manslaughter, owners will now also be prosecuted, to serve as a deterrent to others.
"We will now use the Lagos State Traffic Law to prosecute both the drivers and the owners of such vehicles.
"The state traffic law says that both drivers and owners of tankers and trucks involved in accidents will now be prosecuted.
"That is the angle we are exploring now; our lawyers are reaching out to the Police, so that we can use the state traffic law to prosecute such persons,'' he said.
According to him, we have seen over time that tankers and trucks will get involved in accidents, and the drivers will abandon the vehicles and run away.
Omeje said that owners later end up in picking such vehicles, pay whatever the fine is and continue the business, adding that some of such trucks were overage.
The FRSC boss, however, appealed to owners of tankers and trucks to ensure that their vehicles do not endanger the lives of other road users.
Omeje advised the Association of Maritime Truck Owners (AMATO) and the Association of Corporate Fleet Operators, to ensure that their trucks were in good condition before putting them on the roads, to avoid accidents.
FRSC said it had prosecuted 10 truck drivers for driving unlatched containers in articulated vehicles on Lagos highways this month, out of 52 truck drivers they had arrested for such violations during the period.
They were prosecuted at the Lagos State Mobile Court, following rampant cases of crashes recorded on the highways resulting from unlatched containers in articulated vehicles.