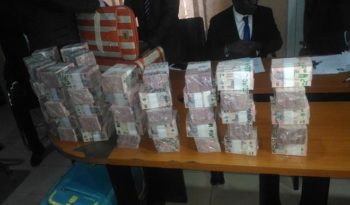 Economic and Financial Crimes Commission (EFCC) in Kano has arrested one Chinese expatriate Ma Youngvin, over illegal possession and transfer of Nigerian currency to foreign country for illegal purposes.
The northwest operation zonal chairman of the EFCC, Dr. Adamu Hamisu Dan'Musa told journalist in Kano that the suspect was arrested on 25th July at the international wing of Aminu Kano international airport on his way to Dubai.
He said the suspect had passed through various security checks at the airport before his bag was detected during the check-in process.
The contents of the bag which were displayed to newsmen at northwest zonal headquarters of the EFCC in Kano were wraps of new mints of five naira (N5) notes amounting to about N305, 000.
Dan'Musa disclosed that the suspect who is currently in custody of the commission had confessed that his intention was to use the currency for a money album.
The EFCC chieftain however expressed doubt, wondering how the Chinese could obtained the money without the active collaboration of some Nigerians.
''I believe that if there are no Nigerians who are unpatriotic who would connive with him to bring our economy into ransom this Chinese man cannot come to this place and this huge amount of money'' Dan'Musa argued.