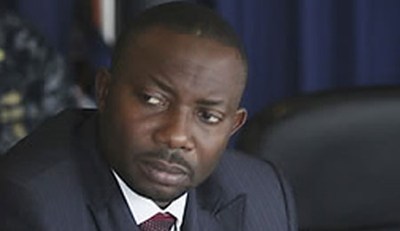 A former Director at the Nigerian Maritime Administration and Safety Agency (NIMASA) Captain Warredi Enisuoh, has been reportedly arrested by officials of the Economic and Financial Crimes Commission (EFCC).
It is not the first time Enisuoh would be arrested by EFCC. He was first arrested and arraigned for alleged financial crimes in 2015 along with other NIMASA officials including a former Director-General of the agency, Patrick Akpobolokemi.
The firm where Enisuoh currently works, Tantita Security Services Nigeria Limited (TSSNL), alerted of his fresh arrest on Sunday.
Recall that the private security firm headed by ex-militant leader Government Ekpemupolo, alias Tompolo, recently won a pipeline surveillance contract worth N48 billion from the Federal Government.
In a statement weekend on Enisuoh's arrest, the company said, "Tantita has been in the news for the amazing progress being made in returning Nigeria to pride of place as the leading oil producer in Africa. However, as we speak, efforts are being made to strangulate Tantita's operations. On the 19th of January 2023, Tantita's Executive Director Operations and Technical, Capt. Warredi Enisuoh, was invited by the EFCC and detained. He has been in EFCC custody since. All efforts to ensure his release has proved abortive, as the commission has insisted that unless he provides a list of names who were his intelligence sources, he would not be released.
"The EFCC invitation came right in the middle of an ongoing operation to unravel one of the biggest oil-stealing cartels in this country. Capt. Warredi Enisuoh flew straight from Port Harcourt (where he was coordinating the operations) to Lagos to heed the EFCC's invitation and walked right into a trap.
"While Tantita is determined to carry on the fight against the oil thieves regardless, it is our position that the EFCC's investigation, if genuine, can be carried out with minimal interference to the war on oil thieves and if not, it is clearly being used by powerful forces to scuttle the war on oil thieves. Let Nigerians be aware of what is being done in their name."
Linking Enisuoh's fresh arrest to an ongoing legal tussle between him and the EFCC, Tantita explained that Enisuoh had won three of four cases against the anti-graft agency.
It said Enisuoh got a judgment of the court of appeal, with suit number CA/L/1320/2016, delivered on November 25, 2017 to access his bank accounts, which were frozen by the EFCC. TSSNL added that in September 2022, one month after Tantita began operations, the EFCC invited Enisuoh and asked him how he gained access to the accounts.
It further alleged that the EFCC asked Enisuoh to provide the names of those who received money from the account, which he did not, as the persons concerned were "intelligence assets who provided valuable intelligence and need to be protected".
EFCC spokesman, Wilson Uwujaren, has, however denied knowledge of Enisuoh's arrest.
"I don't know what you are talking about. I'm unaware of such," an online medium quoted Uwujaren as saying.
Copyright Ships & Ports Ltd. Permission to use quotations from this article is granted subject to appropriate credit given to www.shipsandports.com.ng as the source.