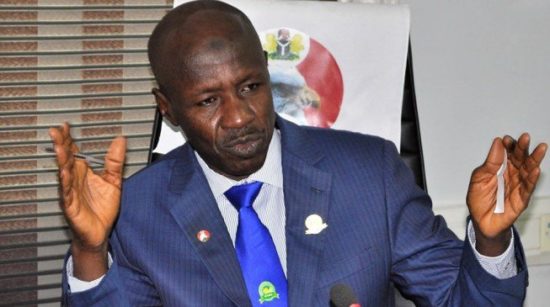 Acting Chairman, Economic and Financial Crimes Commission (EFCC), Ibrahim Magu, said on Wednesday that the anti-graft agency has recovered N106.5 billion between January and August.
He said the agency also recovered $1,635,925.81 (about N591,419,898.83), £629,193.65 (about N294,717,451.63) and €25,575 (about N10,743,798.05) within the same period.
Magu who made the disclosures in a media parley with editors at the commission's Ikoyi, Lagos office, denied that the anti-graft war is targeted at opposition members.
He said despite "distractions and irritations by the corrupt," the commission has secured 158 convictions this year, including two former governors who were jailed for 14 years each.
"At this rate, I am confident that we will surpass the record of 189 convictions achieved in 2017," Magu said.
The commission has been accused of going after only those in the Peoples Democratic Party (PDP) while ignoring corruption allegations against members of the ruling All Progressives Congress (APC).
But, Magu insisted that EFCC is apolitical and only goes after those who break the law.
To him, those accusing the commission of political persecution were shedding crocodile tears.
Magu said, "It will be naïve for anyone to expect the fight against corruption to be smooth; you should expect resistance, which is expressed in various guises.
"With the general election fast approaching, the resistance has assumed even frightening dimensions with political motives imputed to most of our activities."
Magu said it had become fashionable for anyone being investigated for corruption to scream political persecution, with corrupt state officials pleading immunity not ascribed to them by the Constitution.
According to him, some governors have extended the frontiers of their constitutional immunity by claiming that anti-corruption agencies cannot investigate them.